This post may contain affiliate links.
This is the only air fryer grilled cheese sandwich recipe you will ever need. Crunchy buttery bread paired with delicious gooey melted cheese, nothing can beat that!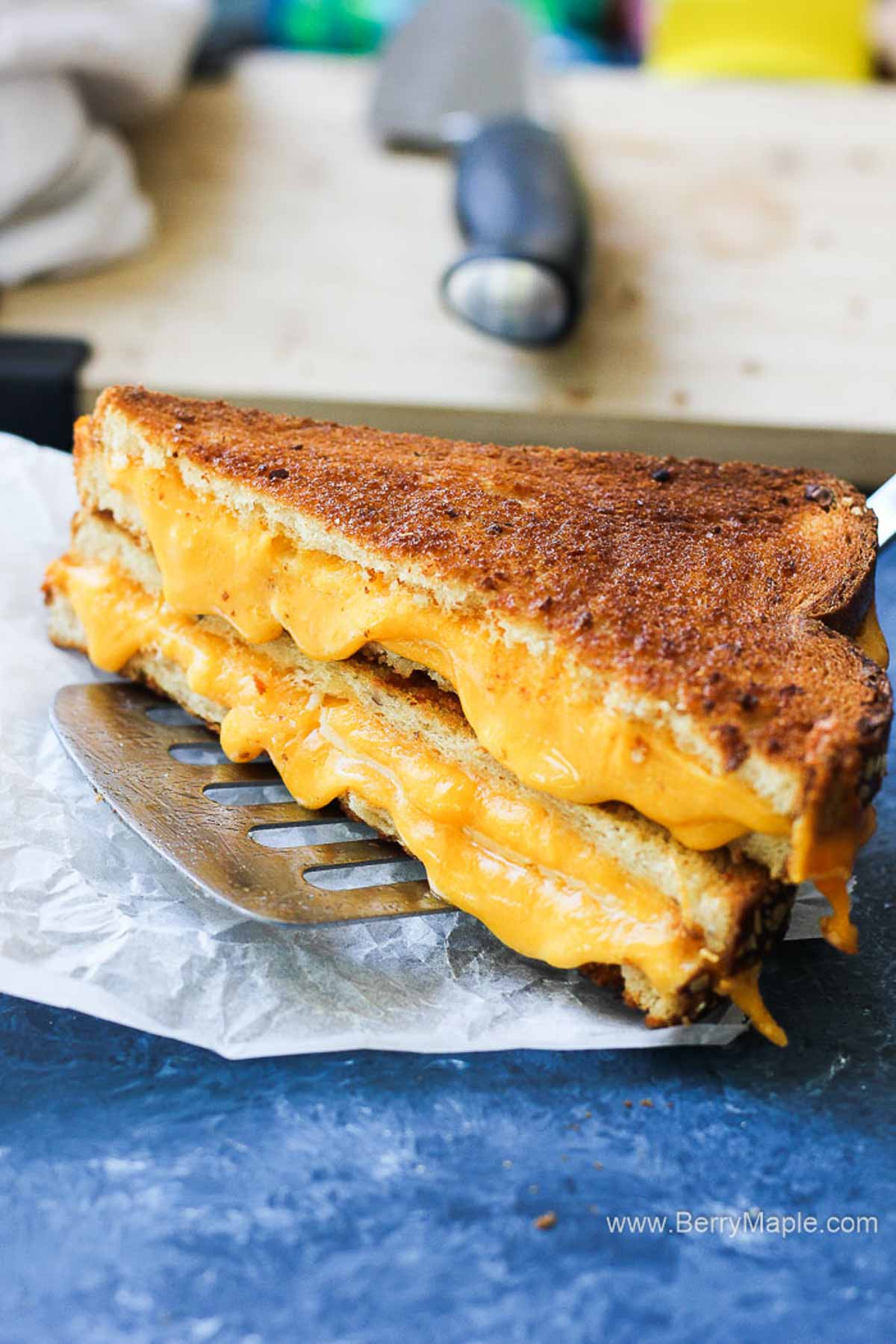 I finally invested in the Air Fryer, and oh my, how happy am i and my kids! This is the one i use on a daily basis.
In the first week we tried so many different recipes and let me tell you, all of them were delicious and very easy to make.
Oil free cooking in general is amazing, Most of My air fryer recipe are suitable for keto and paleo diets, low in weight watchers points and whole30 friendly.
Well, except this recipe. We all need a treat sometimes!
Tips and tricks
TIP 1. Make sure that the cheese is folded inside those two slices of bread all the way. You don't want it to melt and spread all over your air fryer basket
TIP 2. You can make the recipe your own by adding crunchy cooked bacon or sliced jalapeños. Add chopped scallions or sun dried tomatoes for the unique look and taste. If you have leftover pulled pork or shredded chicken, add it to the sandwich. Or sliced sandwich meat like turkey!
TIP 3. Make it air fryer grilled cheese with mayo by adding mayonnaise on one or both sides of your toasts. I wouldn't add too much, just enough to lightly spread on the piece of bread.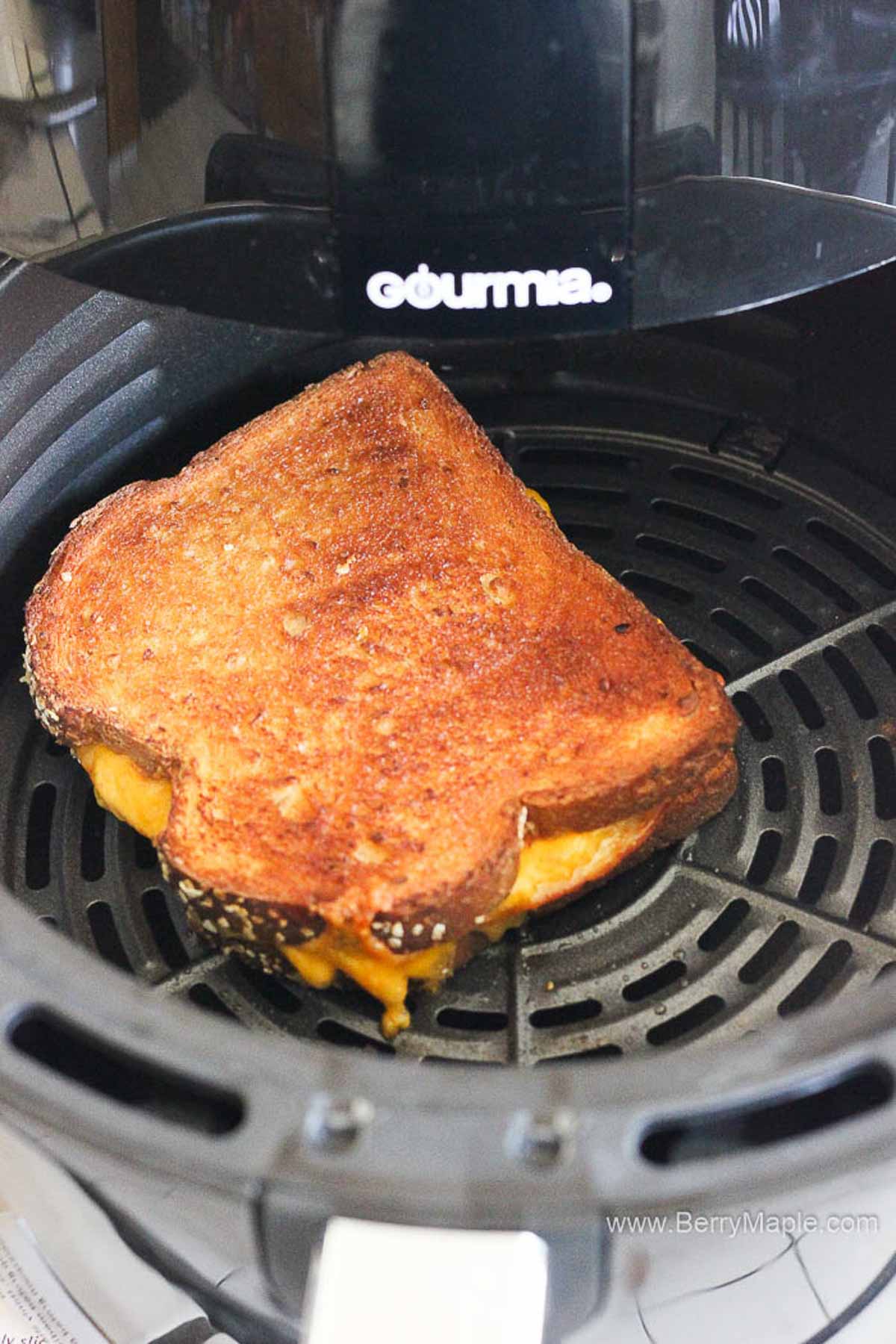 What to serve with grilled cheese
Grilled cheese sandwich can be serving on its own for breakfast or late lunch. But if you like a complex meal, i recommend adding a delicious creamy split pea soup or butternut squash soup. You can dip the sandwich right into the soup, oh that's sound so good on a rainy cold day! Simple salad is also a great option, like a house salad just greens mixed with your favorite sauce and a choice of protein.
How to prevent bread from flying around in air fryer
My air fryer doesn't have this problem but i heard most air fryers do. I really enjoyed reading your comments on Pinterest and you guys gave me some really cool ideas! To prevent bread from flying off the cheese, just stick a toothpick prior cooking. Or top the sandwich with a trivet, it should work well.
Is air fryer food healthy?
Since you are not adding as much oil or butter on your food during cooking, it has less fat and less calories. I prefer air fryer cooking over pan frying almost each time! Most of people are switching their deep fryers to air fryers and for the good reason.
The best cheese for this recipe
Here is the list of my favorite sliced cheese for grilled cheese sandwich. I love it most with cheddar while my husband prefers it in more classic way- with American cheese. It melts more quickly and loves the flavor.
Sharp cheddar
American cheese
Muenster
Provolone cheese
Pepper jack cheese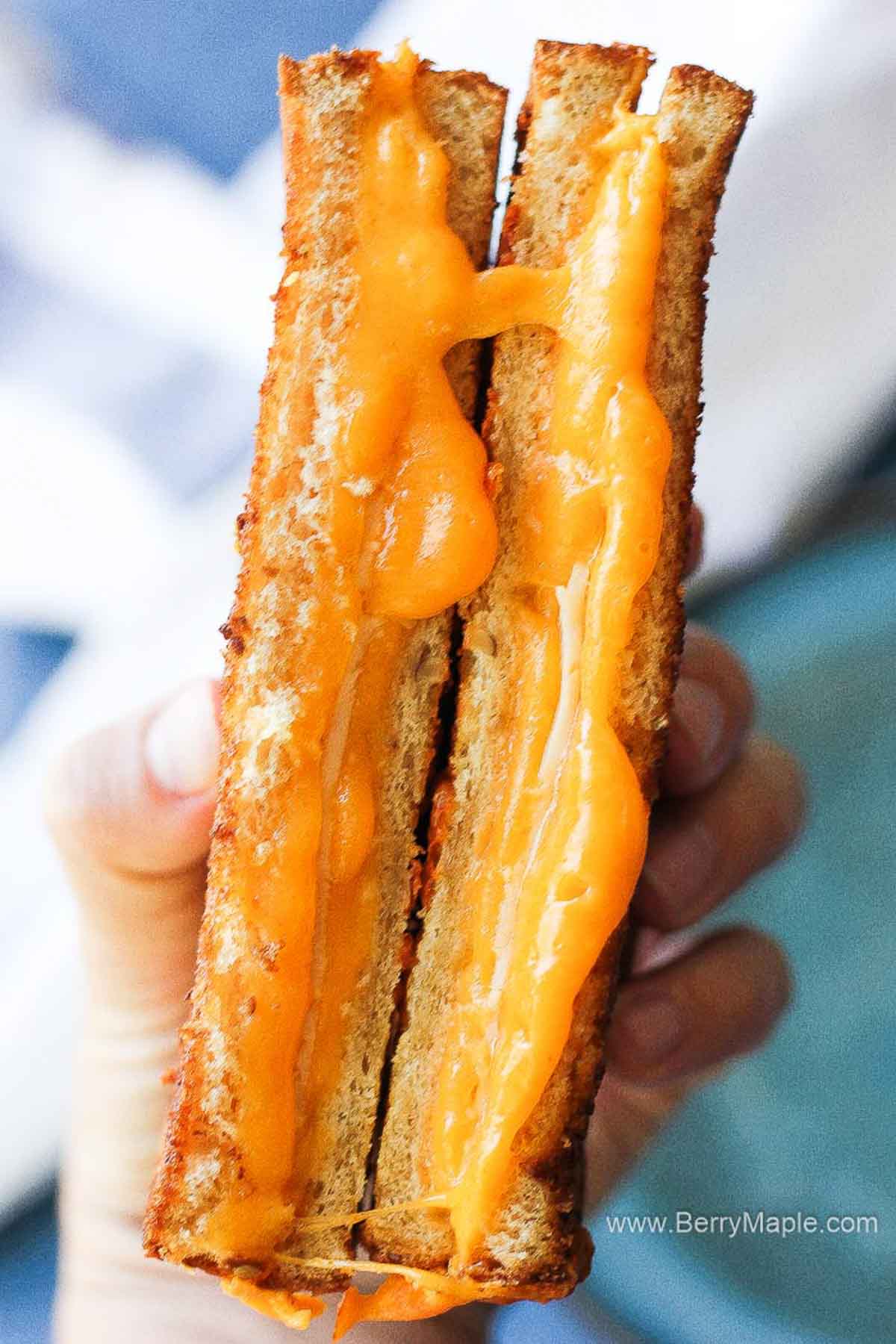 My bread preference
I tried a bunch of breads for this recipe and all of them worked pretty well! Sourdough bread is my choice for the best crunchy grilled cheese sandwich. White or whole grain breads are both fantastic too!
How to make a perfect cheese sandwich
It takes only 5 minutes to make a perfect grilled cheese sandwich. The recipe is easy even kid can prepare it all by himself.
Lightly spread the butter on a piece of bread. If you don't want to use butter feel free to use an oil spray, it will work just as great.
Add add and any other toppings (if using) on top of the bread
Top it with another piece of buttered toast. Place in the air fryer basket. Cooking time for air fryer sandwich is 5 minutes at 350 degrees, flip once.
More air fryer recipes readers love!
Full list of my healthy air fryer recipes has over 50 recipes! Check it out!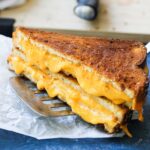 Print Recipe
Air Fryer grilled cheese sandwich
Looking for easy perfect air fryer recipes? Check this amazing grilled cheese sandwich!
Ingredients
2

slices

bread

1

teaspoon

butter

2

slices

cheddar cheese

2

slices

turkey

(optional)
Instructions
Preheat the AF to 350 degrees.


Spread the butter on one side of the bread. Add cheese, turkey if using and cover with another piece of bread, buttered on the opposite side.


Place the sandwich inside the Air Fryer. Set the time for 5 minutes. Turn half way.

The grilled cheese sandwich suppose to look like on the picture, toasty and with lots of melted cheese!:)

Notes
Use a toothpick to prevent the top bread slice from frying around.
You don't need to pretoast the bread.
Enjoy immediately after cooking, while hot and crunchy
Tools used in this recipe
Nutrition
Calories:
455
kcal
|
Carbohydrates:
28
g
|
Protein:
26
g
|
Fat:
26
g
|
Saturated Fat:
15
g
|
Cholesterol:
91
mg
|
Sodium:
708
mg
|
Potassium:
225
mg
|
Fiber:
2
g
|
Sugar:
3
g
|
Vitamin A:
685
IU
|
Calcium:
481
mg
|
Iron:
2.6
mg
Nutrition information is provided as a courtesy and is an estimate only. This information comes from online calculators.