Fall of the bone, tender and juicy whole chicken perfectly cooked in your Instant pot. With crispy delicious skin, using new Crisplid technology. Keto, Whole 30, Paleo and gluten free!
Originally published on February 8, 2018 and then updated with new pictures and instructions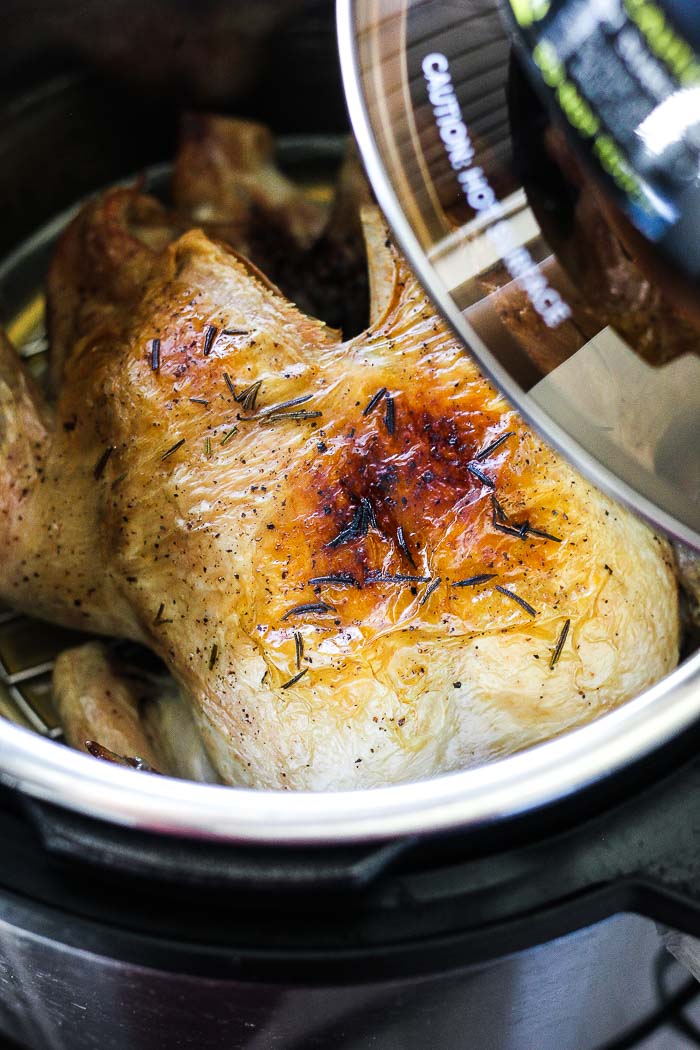 This chicken almost tastes like a Rotisserie Chicken you buy at the grocery store. But maybe a little bit better! If you like to cook your chicken whole, try my other recipes- Easy smoked whole chicken and Air fryer whole chicken.
Recently i received a Mealthy CrispLid (you can order it through this link) and wanted to try it out right away. This device converts your Pressure cooker (6 or 8qt) into an air fryer! Broil, crisp, and air fry directly in the steel pot of your electric pressure cooker. I am impressed!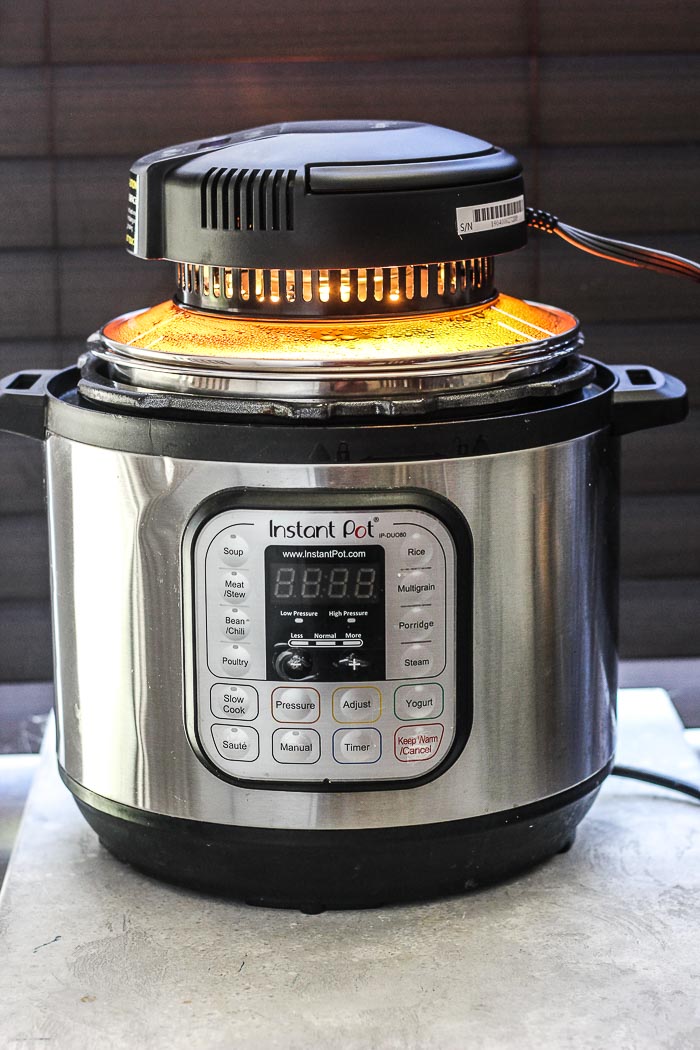 Pressure cooked whole chicken
First i wanted to make a whole chicken in my Instant Pot. I washed and cleaned the chicken, rubbed it with salt, freshly ground pepper and of course some fresh rosemary from my backyard. Placed the trivet inside the inner pot, added 1 cup of water (you can use chicken broth for extra flavor). Added the whole seasoned chicken and closed and locked the lid.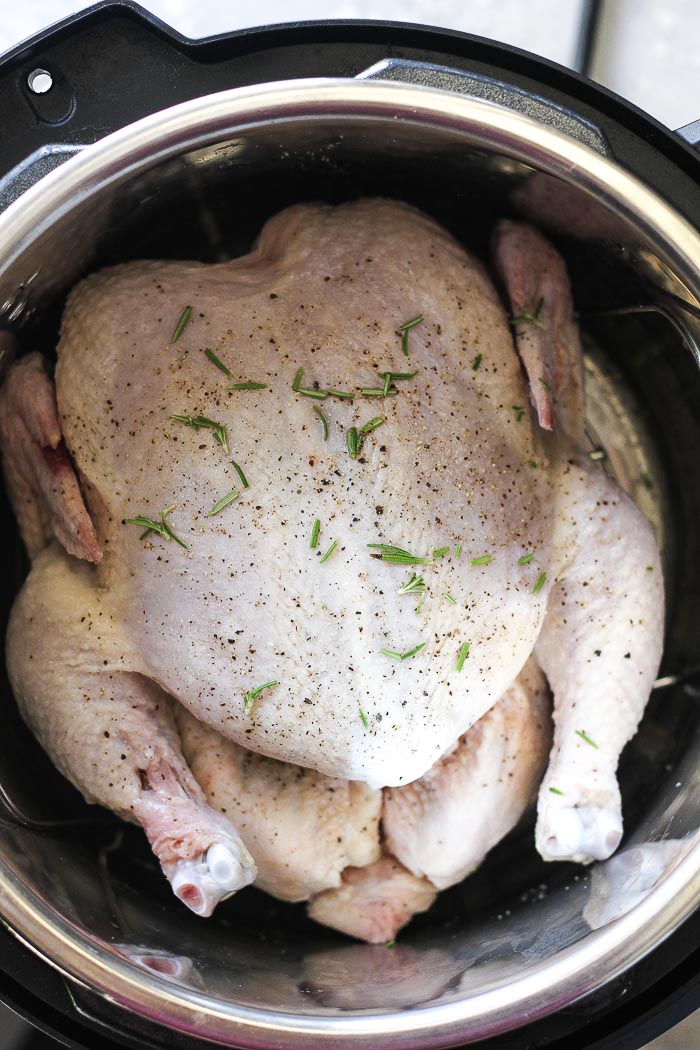 Cooked for 20 minutes on MANUAL high pressure. Once done, quick release the pressure.
You don't have to babysit the whole process of cooking too, just place the chicken in the pot, close the lid, push to start and….go do something amazing while the chicken is cooking!
Now to the fun part!
Broiling whole chicken with CRISPLID
Once you open the pressure cooker lid, let some steam to escape. Take your CRISPLID, plug it in and place on top of your instant pot (or other pressure cooker you are using).
Set the time and temperature and set start. For this recipe i chose to use 500 degrees setting for 5 minutes.
You are monitoring the entire process so you can stop the broiling process once the chicken will get as browned and crispy as you want.
Order your own CRISPLID HERE. I loved it so you will too.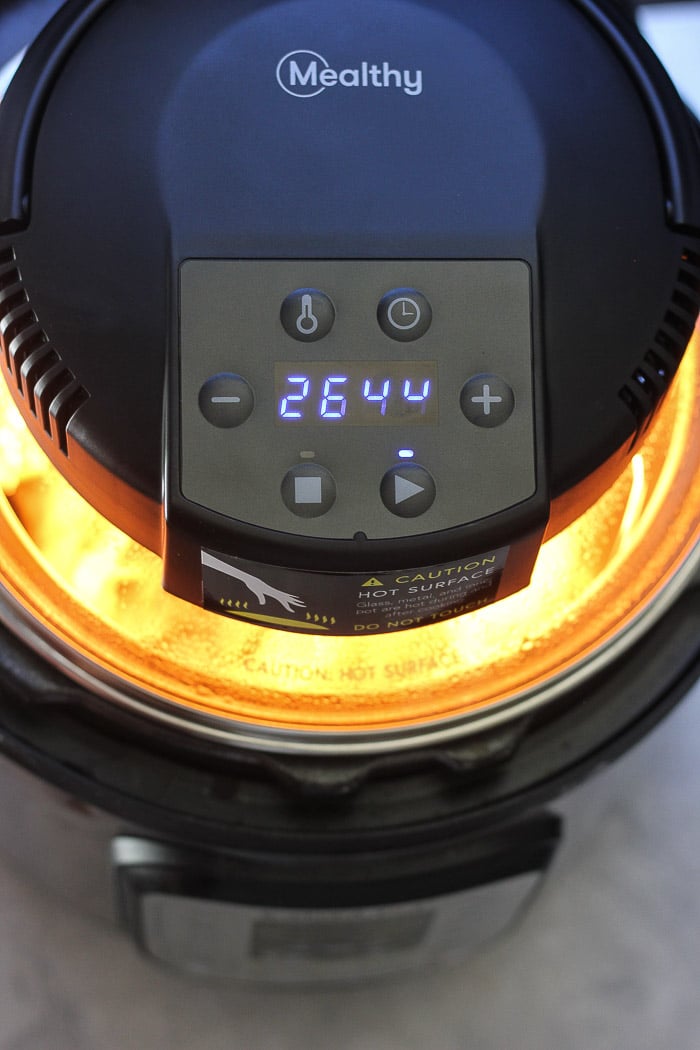 You can use the Crisplid as an air fryer as well. Use same temperature and time as provided in the recipes below:
Or you can use it with more instant pot recipes like these (for broiling) :
Instant Pot Fettuccine Alfredo pasta (add more cheese on top and melt it with Crisplid)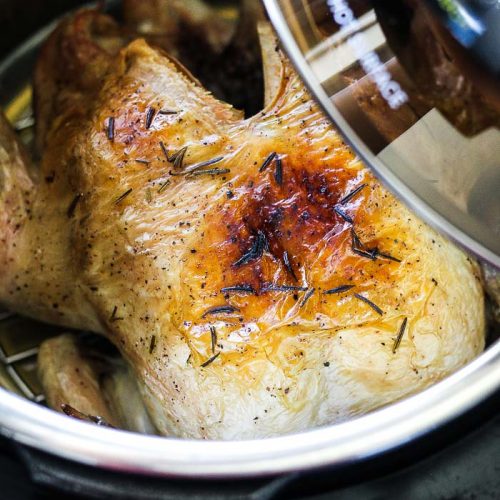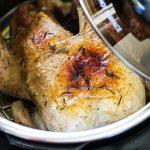 Print Recipe
Whole chicken in instant pot
Fall of the bone, tender and juicy whole chicken perfectly cooked in your Instant pot. Keto, whole30, low carb, gluten free

Ingredients
1

chicken

(about 4 lb)

3

garlic cloves

(minced)

1

tablespoon

chopped fresh rosemary

(or use your favorite spices)

1

cup

chicken stock or water

1

tablespoon

salt

lots of freshly ground pepper
Instructions
Wash the bird and dry with paper towels. Rub with minced garlic, rosemary, salt and pepper. Add more spices if you will like.


Place the chicken in to the instant pot. Add water or broth, and wine if using. Close and lock the lid. Set to 20 minute on high pressure.


Once done, quick release the pressure. Replace the lid with the CRISP LID. Broil for about 5 minutes at 500 degrees.

Notes
Be careful getting the chicken out of the pot- it will be falling apart.
Nutrition
Calories:
89
kcal
|
Carbohydrates:
1
g
|
Protein:
4
g
|
Fat:
4
g
|
Saturated Fat:
1
g
|
Cholesterol:
27
mg
|
Sodium:
1767
mg
|
Potassium:
88
mg
|
Vitamin A:
20
IU
|
Vitamin C:
0.7
mg
|
Calcium:
7
mg
|
Iron:
0.3
mg