This post may contain affiliate links.
Try this delicious refreshing shrimp and crab ceviche, so good as a side dish or appetizer. A mix of flavors you will love.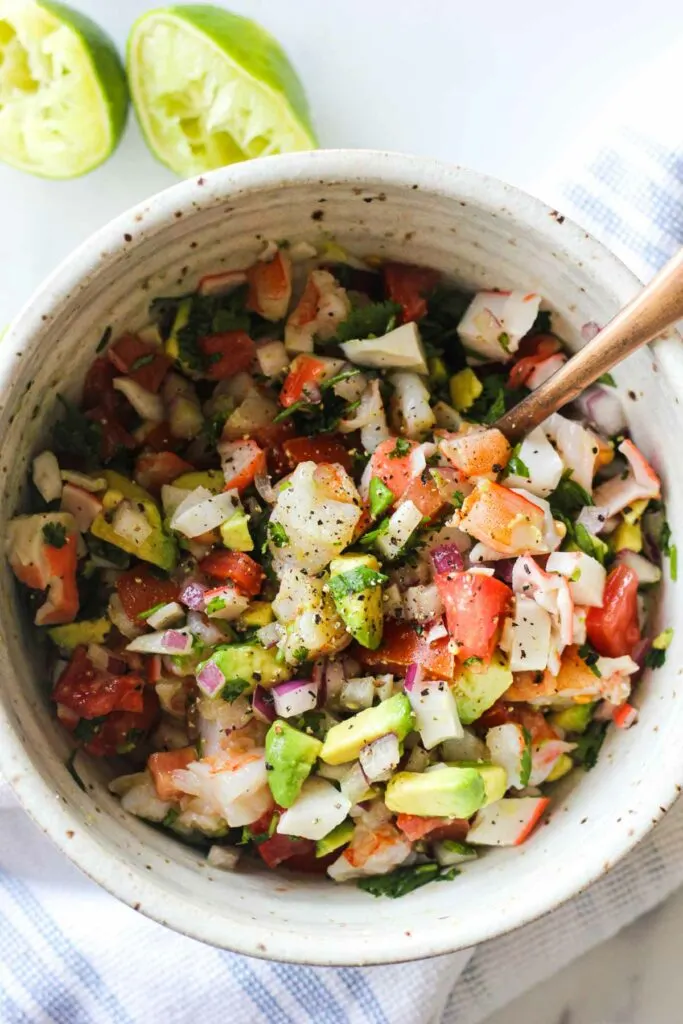 I have ceviche on the table often and really enjoy cooking it. Its easy, its very fresh and it takes only 10 minutes to make! Better the restaurant, shrimp and crab ceviche that is so good with corn chips or tastadas. Or as is.
What is ceviche
Ceviche is a South American dish that contain raw fish or other seafood that is cured in lots of lemon or lime juice. This process will turn the fish meat opaque and it will look like its cooked. But its not, so make sure you had your fish frozen before for at least a week in the freezer (-4 degrees Fahrenheit) to kill all the parasites.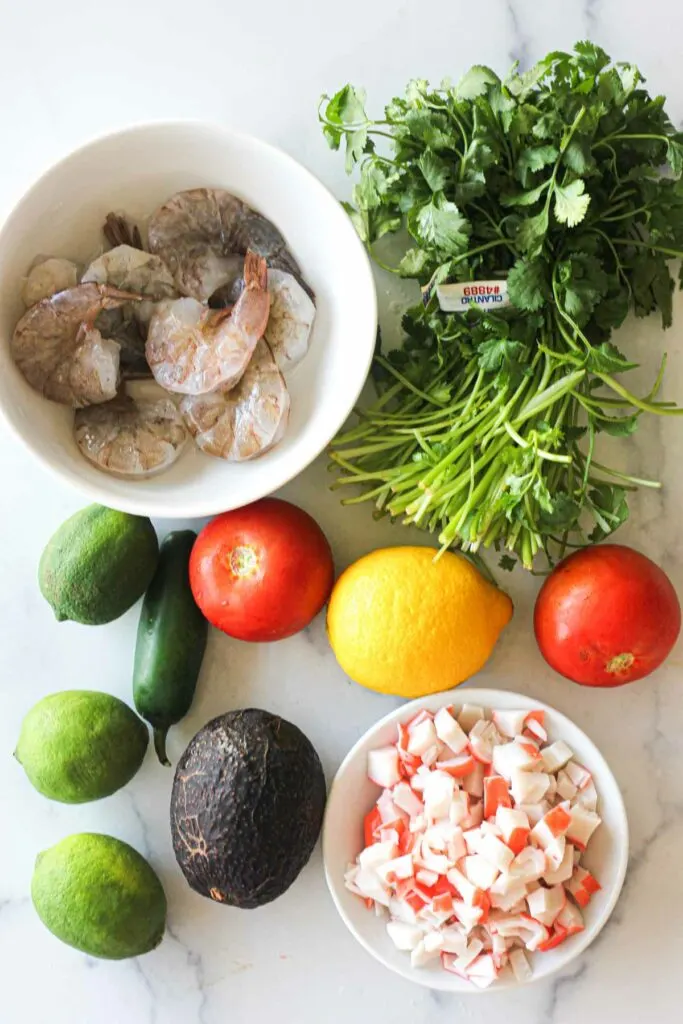 How to make Mexican shrimp crab ceviche
Get all the ingredients together and lets start! For this shrimp crab ceviche recipe you will need tomatoes, jalapenos, cilantro, lemon or lime, avocado, shrimp and crab.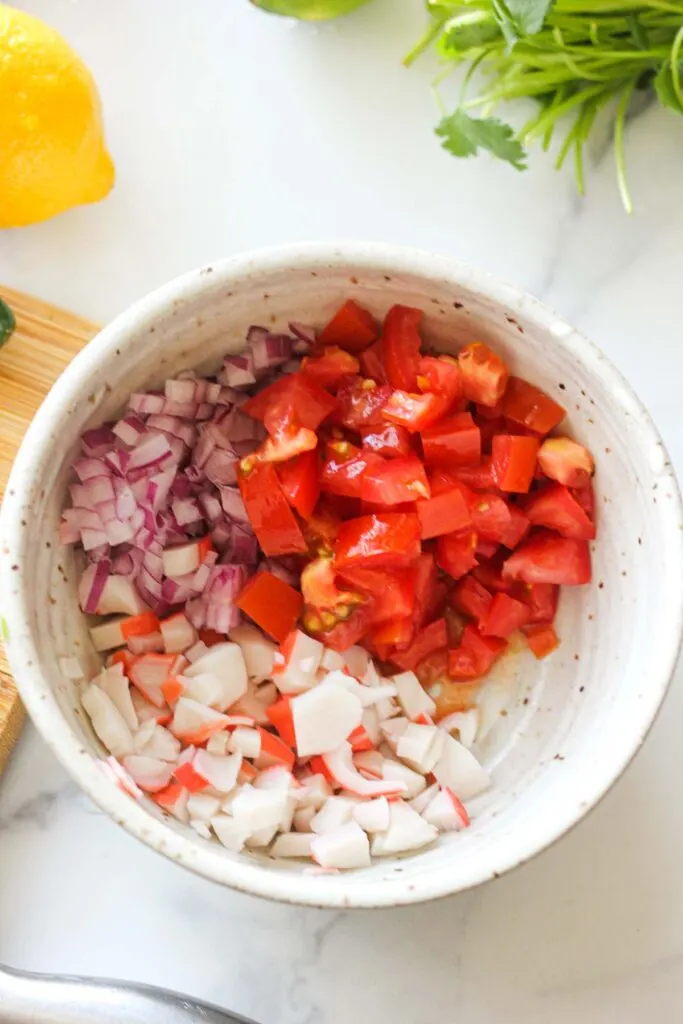 Start with chopping tomatoes and red onion. I like to use red onion in ceviche instead of yellow onions because of its mild flavor.
Now its time for some crab. If using imitation crab, pick the one that is flaked, not crab sticks. Its much easier to shred it to the ceviche. If using real crab, just chop it and add to the bowl.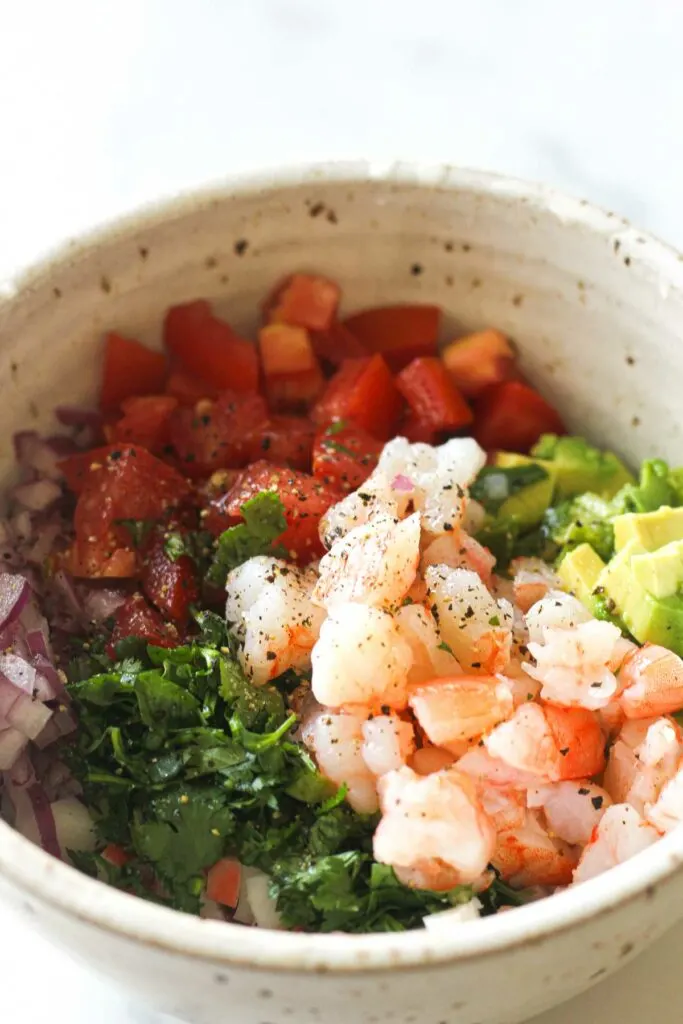 Chop avocado and cilantro. Add salt and freshly ground pepper. Roll lime on the table to help releasing juices, cut in half and juice it right into the bowl. Do the same if using lemon. Mix it up and its ready to eat!
How long can you store ceviche in refrigerator
As i mentioned before, i don't recommend storing ceviche that contain raw fish for too long. 24 hours maximum. Also try to pour off as much marinade as possible before storing. You can add fresh lime juice later to adjust the flavor.
Serving suggestion
Make sure to serve salmon avocado ceviche with plantain chips, corn chips or simple saltine crackers. Tostadas is another great way to enjoy it. Since i like it spicy, i always leave a bottle of hot sauce on the table to add on top of your fresh ceviche.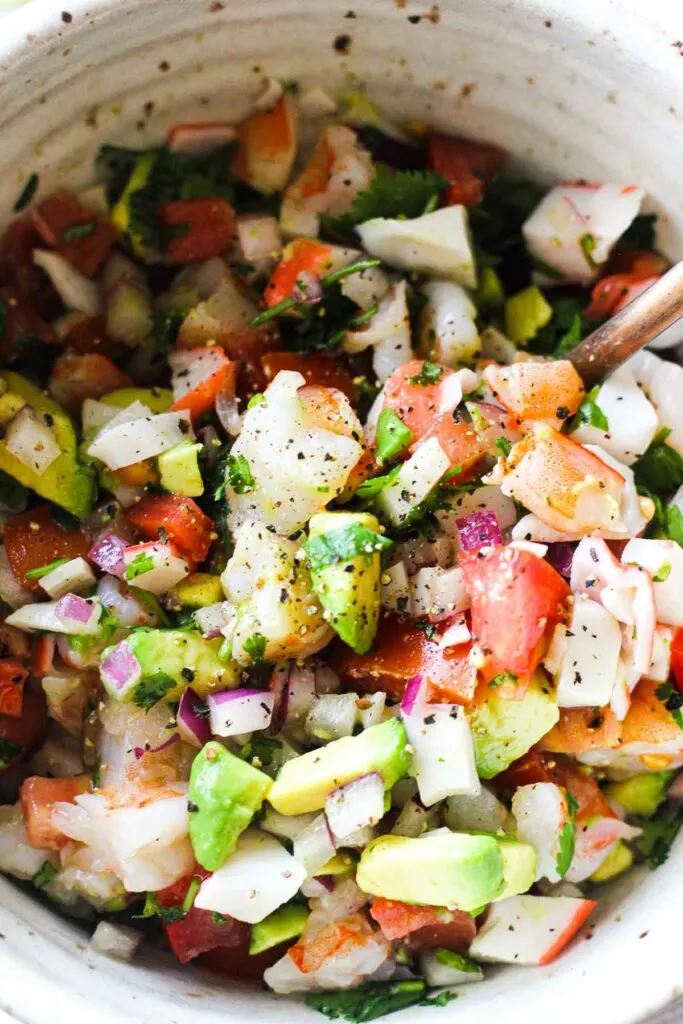 Recipe tips and notes
Tomatoes are optional in this recipe. They go well in more traditional ceviche recipe and add more juiciness to the dish for sure.
Jalapenos are perfect and has just right amount of heat. You can also use poblano or serrano peppers.
Leftovers. Do not make ceviche ahead of time. Please eat it as soon as you prepare it. If you still have some leftovers, you can eat them next day just make sure the fish still smell fresh. Make sure to keep it in fridge in airtight container.
If using tostadas, don't top them with ceviche until ready to eat. Tostadas will become soft and soggy.
Do not use a metal bowl when making salmon avocado ceviche. Metal will react with lime and lemon and affect the flavor.
DO NOT use crab meat from little cans. They are usually very cheap. I made that mistake once and ended up with a nasty mash when i opened cans. If you want to use a real crab in the recipe, get something that's more expensive.
You may also like…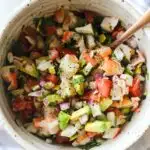 Print Recipe
Mexican shrimp and crab ceviche
Try this delicious refreshing shrimp and crab ceviche, so good as a side dish or appetizer. A mix of flavors you will love.
Ingredients
1

tomato

chopped

1/2

bunch

cilantro

chopped

1

jalapeno

chopped

1

cup

raw peeled shrimp

chopped

1

cup

imitation crab

chopped

1

avocado

chopped

3

limes

or 2 lemons

1/2

onion

chopped

salt and pepper to taste
Instructions
Juice lime or lemon in a medium size glass bowl. Add shrimp and crab and stir.

Add all other ingredients. Mix. Salt and pepper to taste.

Serve with tortilla chips or on tostadas.
Notes
Do not use metal or plastic bowl for this dish. Citrus can react with metal and give your ceviche a bad taste. Same with plastic.
You can anjust the heat by adding more or less hot peppers. Also you can remove the seeds to make it taste milder.
Lemon is ok to use instead of lime
Try to use freshly squeezed lime or lemon juice in this recipe. Do not use the bottled one, ceviche will no taste the same.
To get the most juice out of lime, roll it on the table before cutting.
Red onion is milder then yellow onion. Use the one you like more.
Nutrition
Calories:
369
kcal
|
Carbohydrates:
41
g
|
Protein:
22
g
|
Fat:
16
g
|
Saturated Fat:
2
g
|
Polyunsaturated Fat:
2
g
|
Monounsaturated Fat:
10
g
|
Cholesterol:
171
mg
|
Sodium:
1017
mg
|
Potassium:
855
mg
|
Fiber:
12
g
|
Sugar:
8
g
|
Vitamin A:
920
IU
|
Vitamin C:
61
mg
|
Calcium:
153
mg
|
Iron:
3
mg
Nutrition information is provided as a courtesy and is an estimate only. This information comes from online calculators.