Delicious crunchy and very easy air fryer fried chicken thighs and drumsticks recipe. Buttermilk tenderized, this bone in chicken will taste like if you fried it in oil, but healthier!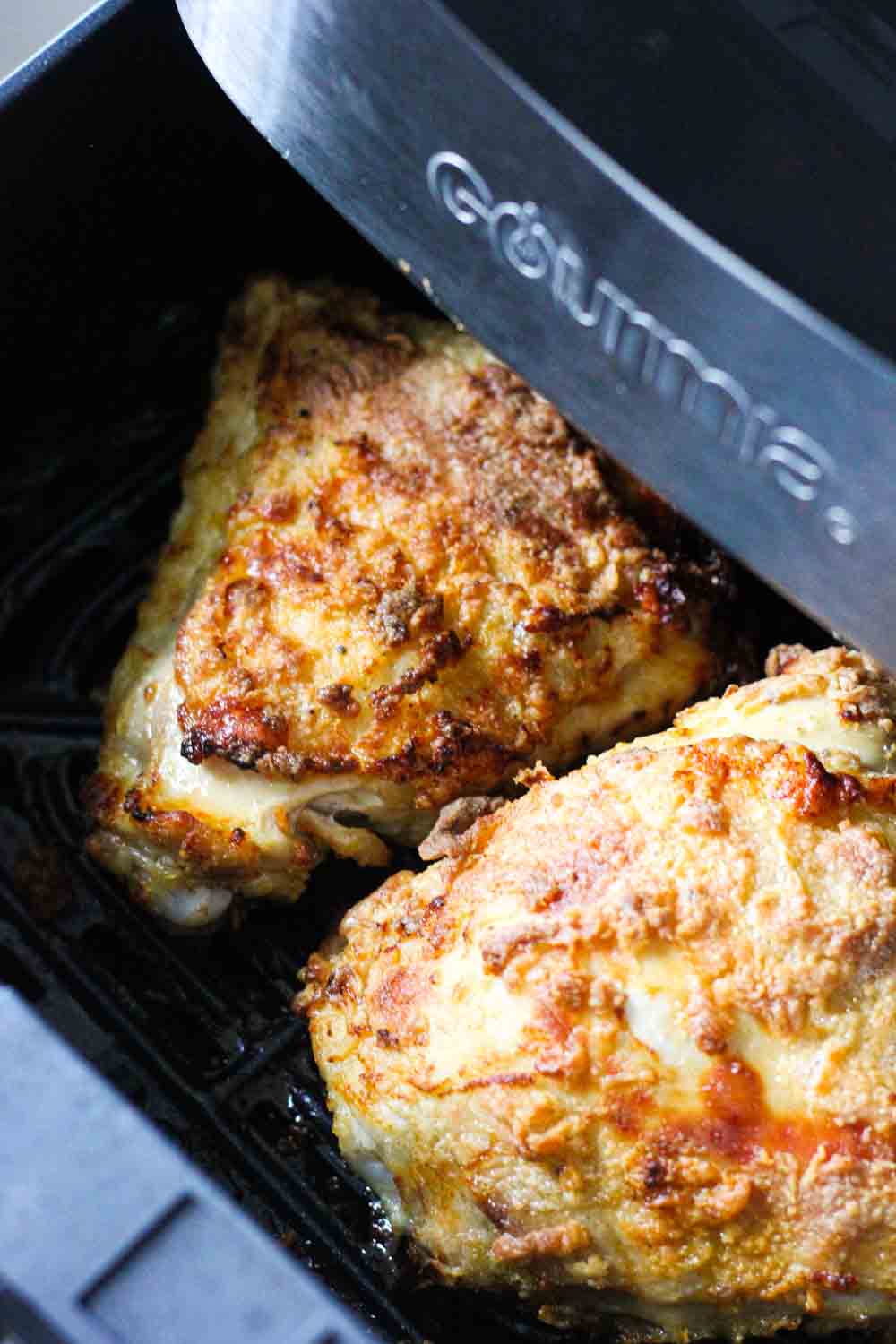 What does buttermilk do to chicken
Buttermilk help tenderizing the meat. For the best results, leave chicken in buttermilk for at least one hour, better if for two. Just pour buttermilk over the chicken, cover the bowl with some plastic wrap or put in a fridge.
How to make air fryer fried chicken
First thing to do is to buy a nice, not previously frozen chicken quarters and cut them in to a drumstick and a thigh. Or you can just buy drumsticks and thighs already separated. Wash them to remove any dirt (of course its your choice to wash your chicken or not… i always do, just clean the sink after) and pat dry with paper towels.
Take a medium size bowl and place chicken pieces in. Cover them with buttermilk. I choose a full fat Bulgarian style buttermilk but you can go with whatever you will find in your local store. Cover the bowl with plastic wrap or a large flat plate and place in to the fridge for about 2 hours.
Now its time to mix the spices in another bowl. Mix paprika (you can use smoked paprika too, so good!), onion powder, garlic powder, salt, freshly ground black pepper, some cumin and all purpose flour. Take chicken out of the fridge. Take each piece and gently wipe any buttermilk drippings. You don't want chicken to be dry but also you don't want it to have too much buttermilk on it.
Now, using kitchen thongs, pick up a piece and dip it in the flour spice mixture. Make sure all the sides are nicely coated and there in no wet spots left. Put it on the plate or a rack. Repeat with all the pieces.
Preheat the Air fryer to 360 degrees. Apply some cooking oil from spray bottle to the air fryer basket. Place all the chicken pieces, i only had two drumsticks and two thighs so they fit perfectly in to the basket. Dont overcrowd! If you feel like the chicken pieces are too close to each other, just make two batches. Spray chicken with oil, just a little.
Cook for about 20 minutes for chicken drumsticks and for about 30 minutes for thighs. Check and turn the chicken twice during cooking, dont forget to spray dry flour pieces ( i mean if you see the coating start getting brown, dont spray that part). If you have a meat thermometer, stick it in to the meat ( away from the bone!) to make sure its at least 165 degrees. Thats the recommended temperature for poultry.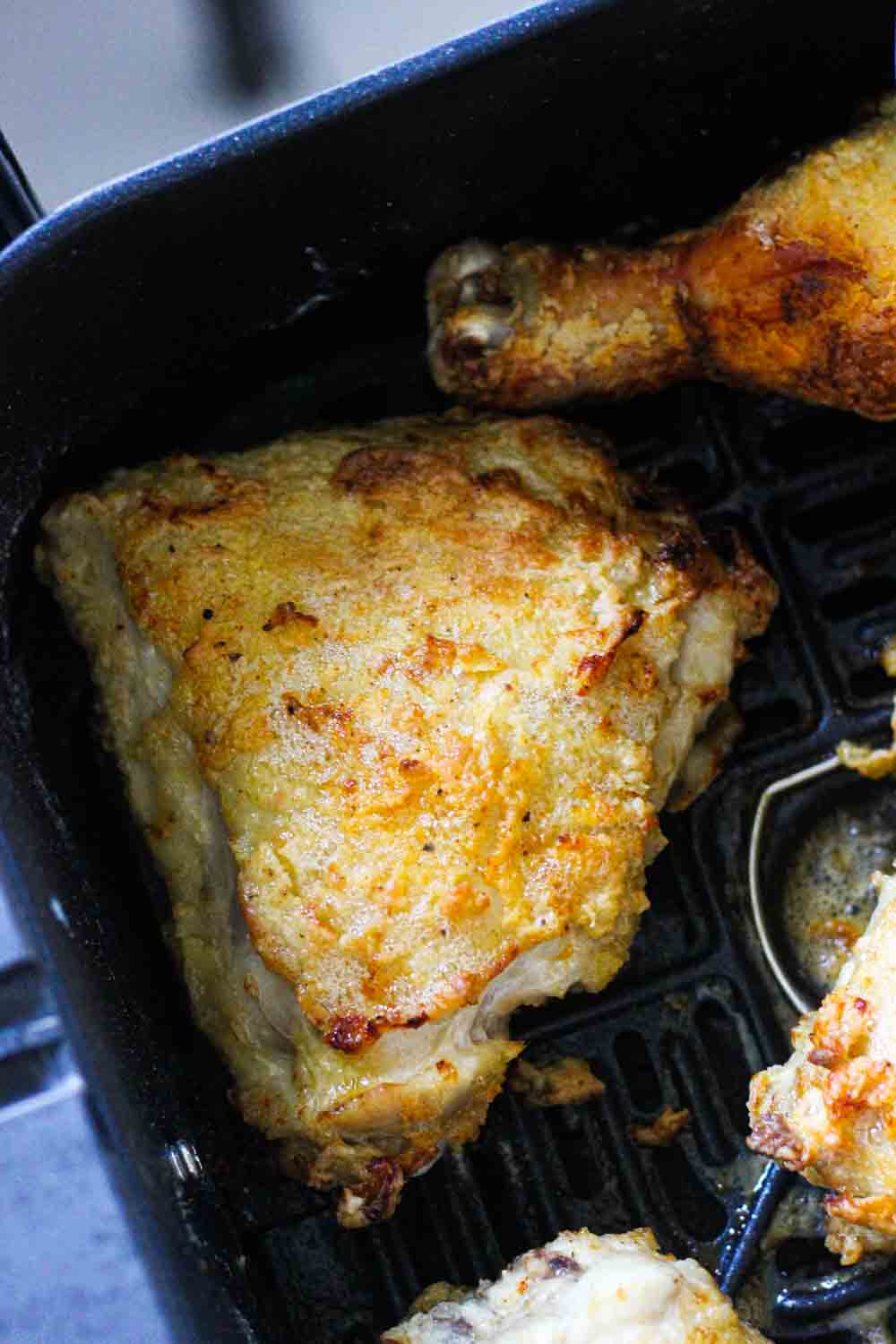 The cooked fried chicken should be golden in color and crispy. The meat should be tender and flavorful. Enjoy with coleslaw, potato salad, corn or as is!
I made this recipe on a sunday afternoon and all my family liked it. kids ate the drumsticks and we ate the thighs. SO CRUNCHY and JUICY! I really really love how this chicken turned out and recommend you to try it.
How to reheat fried chicken
If you have some leftovers from yesterday, just put them in to your air fryer and reheat at 400 degrees for about a minute or two, depending on how you want your chicken to be. You can spray chicken with some oil for the extra crisp but that is not necessary.
You can try to use this recipe if you prefer chicken breasts too! Follow all the steps, just reduce the cooking time to about 10 minutes. I would check with the meat thermometer to make sure the breast is cooked all the way through.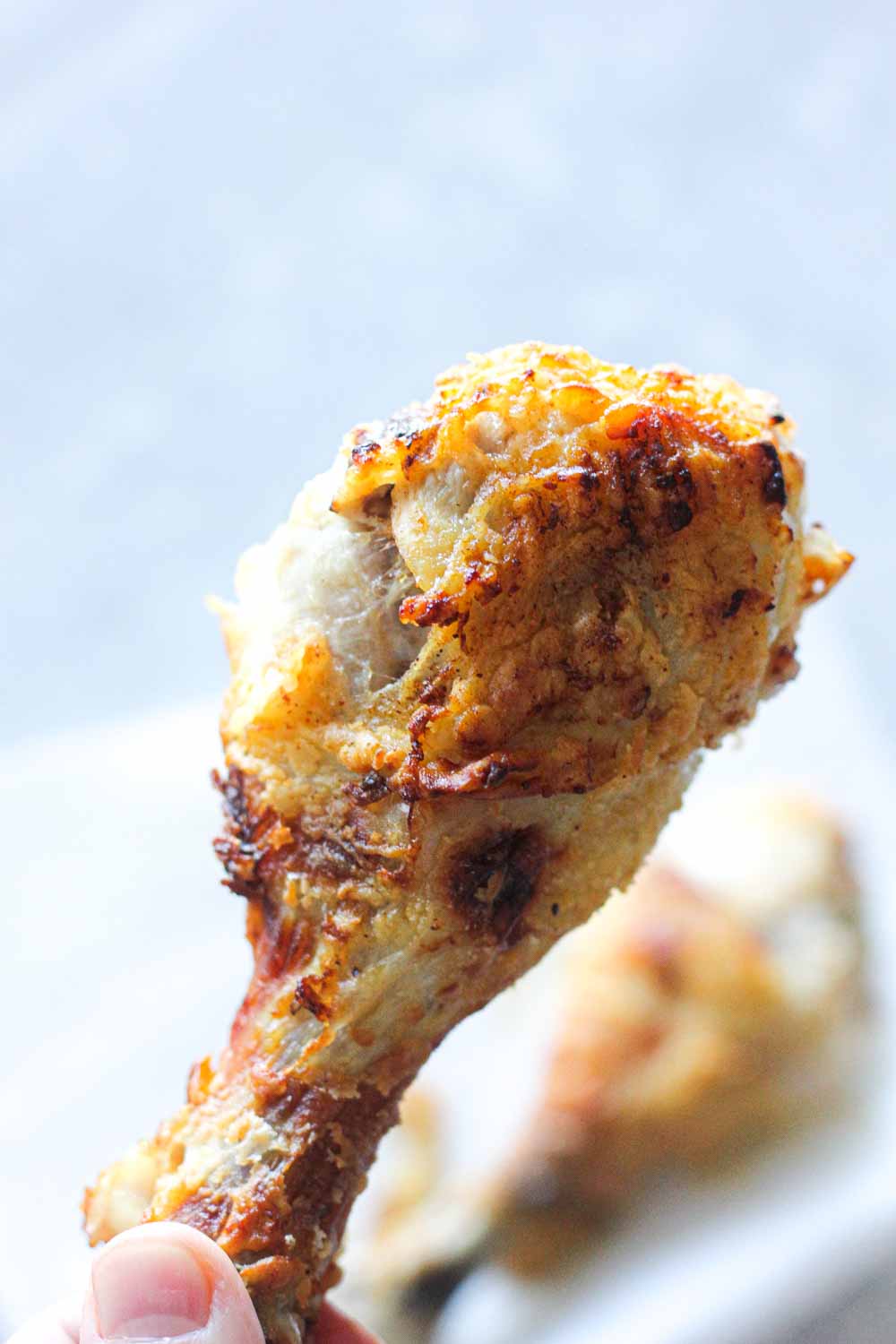 More delicious air fryer recipes to try: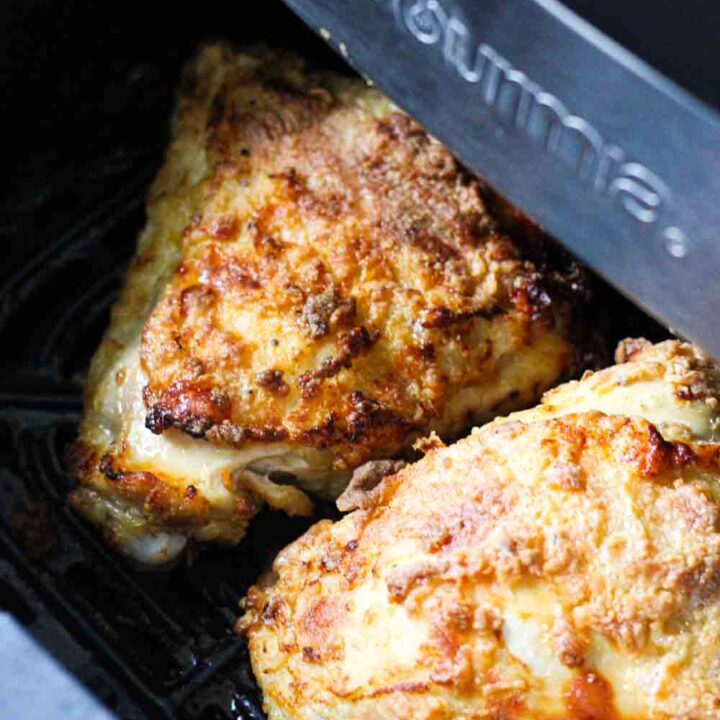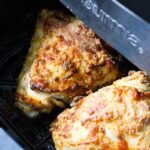 Print Recipe
Air fryer buttermilk fried chicken
Ingredients
2

chicken quarters

ot two drumsticks and two thighs

1 1/2

cups

buttermilk

1 1/2

cup

flour

1

tablespoon

garlic powder

1

tablespoon

onion powder

1

tablespoon

paprika

1

tablespoon

black pepper

2

tablespoon

salt

hot sauce, optional, add it to buttermilk if using

cooking spray
Instructions
Wash and pat dry chicken. If using chicken quarters, cut them in half, right by the joint to separate them in to thighs and drumsticks. Put in a bowl and pour buttermilk on top. Cover the bowl with plastic wrap and place in to the fridge for two hours.

Take the chicken out and using paper towel remove extra buttermilk. Prepare the spice mixture, mix all the spices and flour in a small bowl. Using thongs, dip each chicken piece in the mixture and place on the rack or plate. Make sure the chicken is coated all the way.

Preheat air fryer to 360 degrees. Spray the bottom of the basket with oil spray. Place chicken in the basket , don't overcrowd. Spray the top of the chicken with oil, just a bit.

Cook for about 20 minute for drumsticks and 30 minutes for thighs. Turn chicken halfway through the cooking, spraying dry flour spots with oil where needed. Make sure the temperature of cooked chicken is at least 165 degrees.
Nutrition information is provided as a courtesy and is an estimate only. This information comes from online calculators.