This post may contain affiliate links which won't change your price but will share some commission.
Try this soft and sweet cinnamon air fryer baked apples for your next dessert! Impress your guests and family with this easy to make recipe, only few ingredients and oh so healthy and delicious!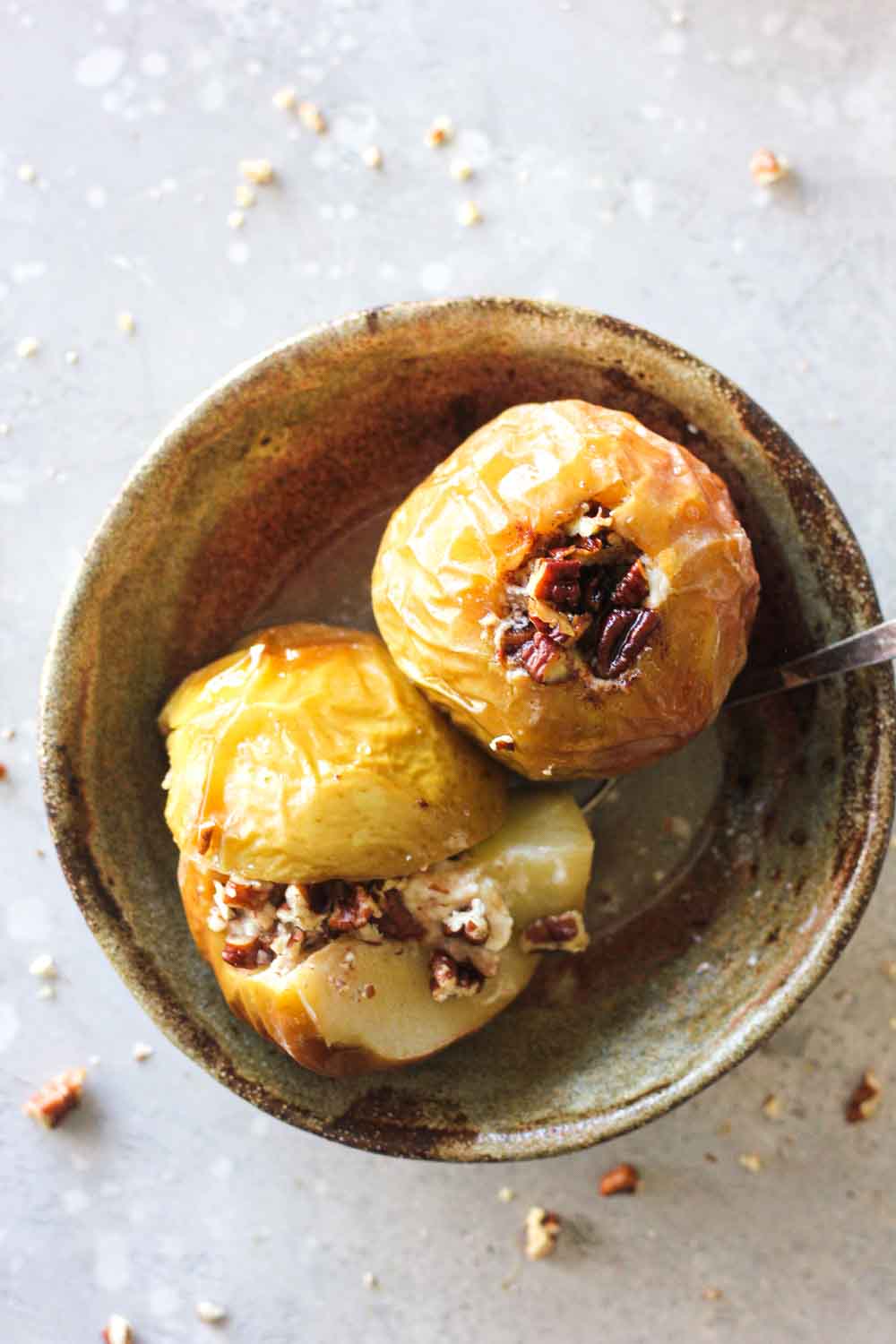 Today's air fryer recipe will be a fantastic dessert or a between meal snack- AIR FRYER BAKES APPLES. If you love baked apples in general, this recipe is for you.
Are baked apples healthy?
Well, it depend on what do you compare them with. Of course a nice raw crunchy apples has all the vitamins and nutrients and when you actually bake them, it leaves just a few vitamins. BUT, if you will compare this recipe to any other dessert that would have refined sugar, then the answer is obvious.
Also a medium size baked apple would be just about 110 calories and a good source of fiber. We love to make these apples at least once a week to satisfy our sweet tooth.
What are the best apples for baked apples
Any sweet and juicy variety will work perfectly. I mentioned a few my favorite apples to use in cooking in my Unsweetened applesauce recipe, please take a look. But in two words, my favorite apples for this recipe are fuji and pink lady. They are sweet and juicy an fit this recipe the best.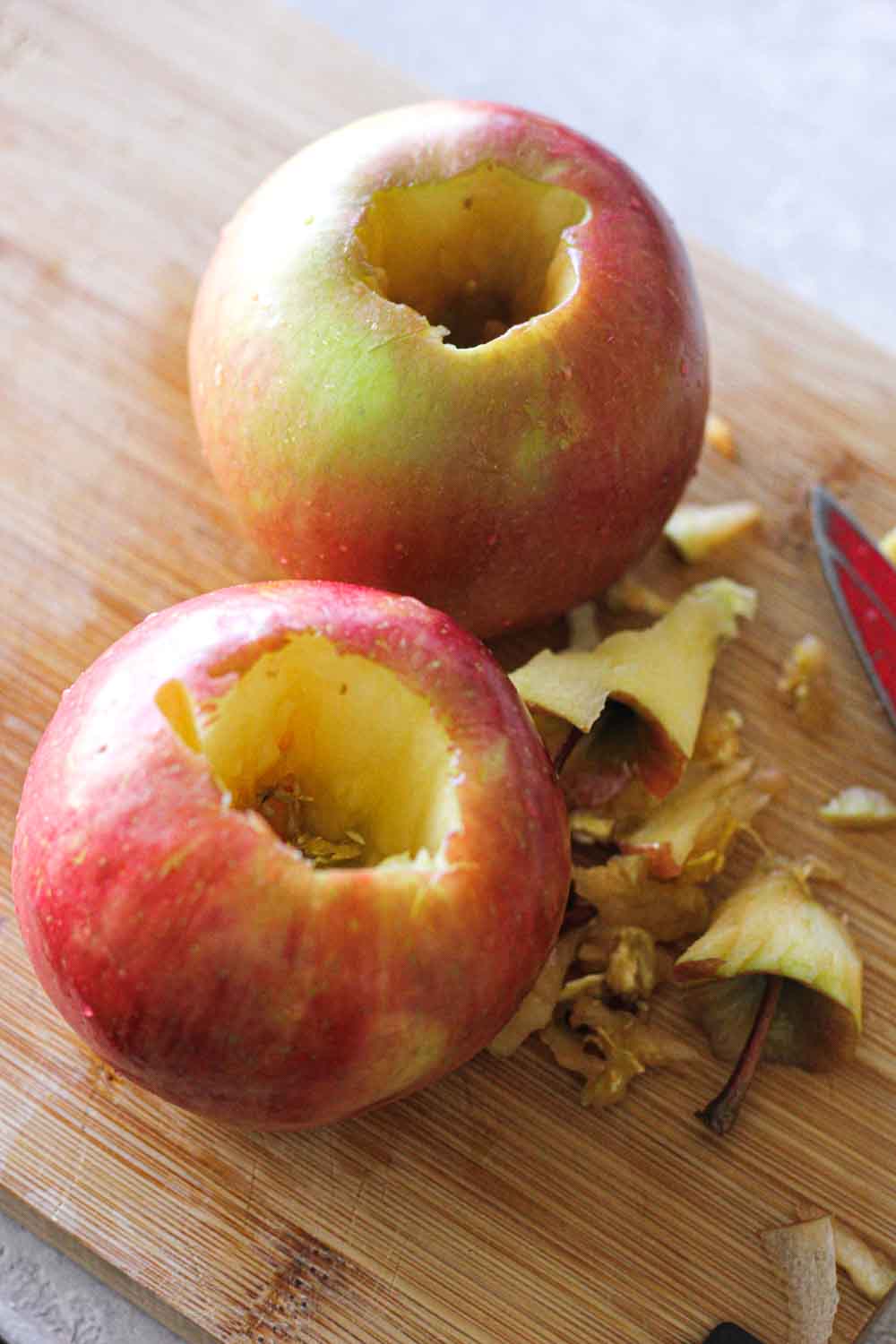 How to make air fryer baked apples
Wash and dry the apples you picked. Using a sharp little knife, try to cut the core of each apples out, without cutting it all the way through. It may take some time. If you feel like its too much, you can just an apple in half and core it that way. When they will be baked it will not matter for the taste, only the shape will be different.
Fill the holes in the apples with cream cheese and top with chopped pecans. I used pecans because honestly that's what i had on hand. It will be as delicious with almonds, walnuts, pistachios and even some dried fruit and berried like cranberries, currants or raisins. You can place a tiny piece of butter inside too, but that's optional.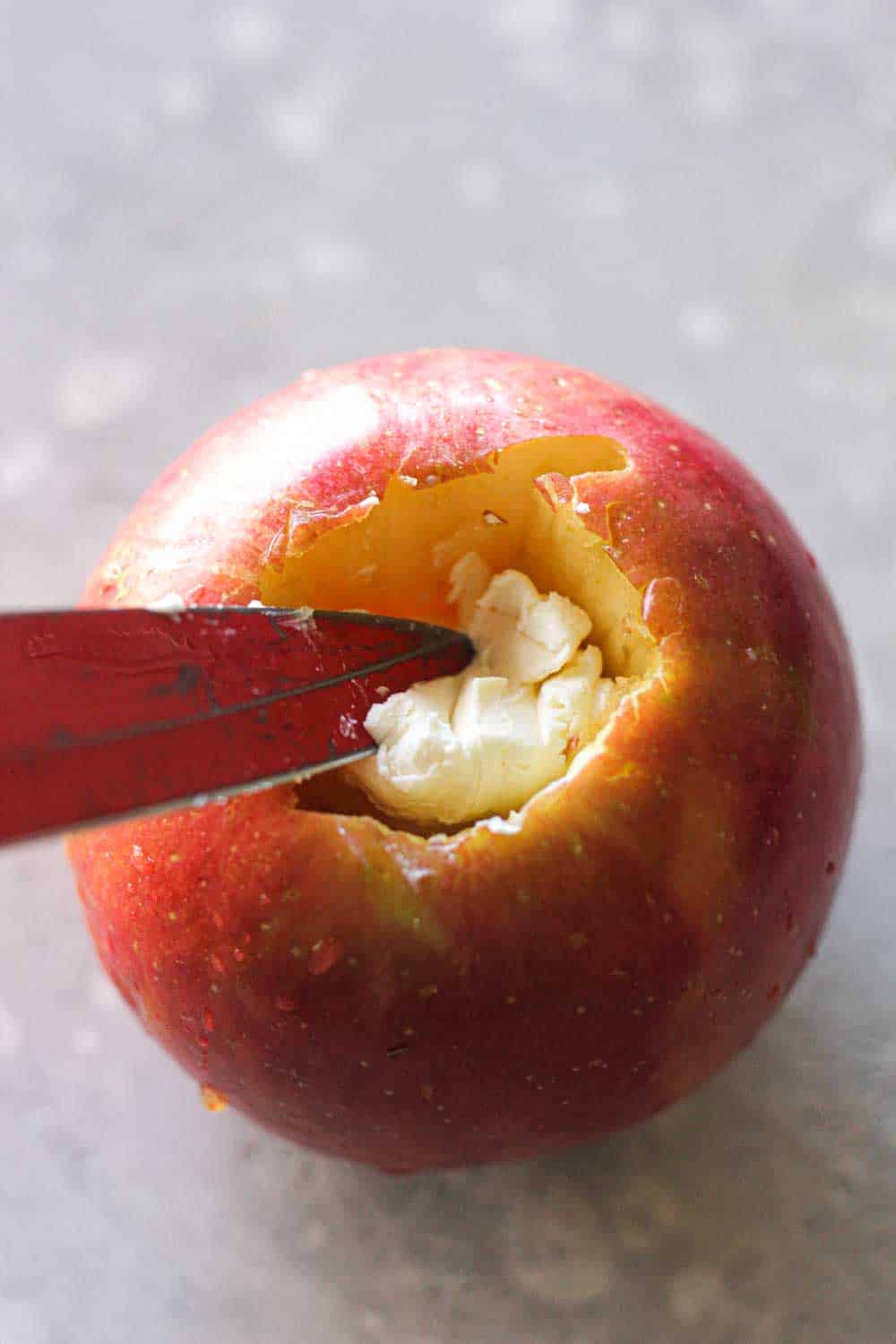 Place apples on the baking pan that fits your air fryer. I have just a small oven safe cake pan that a got from Amazon (affiliate link). It works great, but you can probably use any oven cake pan you have.
Once apples are in the pan, drizzle them with maple syrup or honey and cinnamon. Put the pan into a preheated to 340 degrees air fryer for about 20 minutes, until apples are tender to the tip of a knife. Serve warm.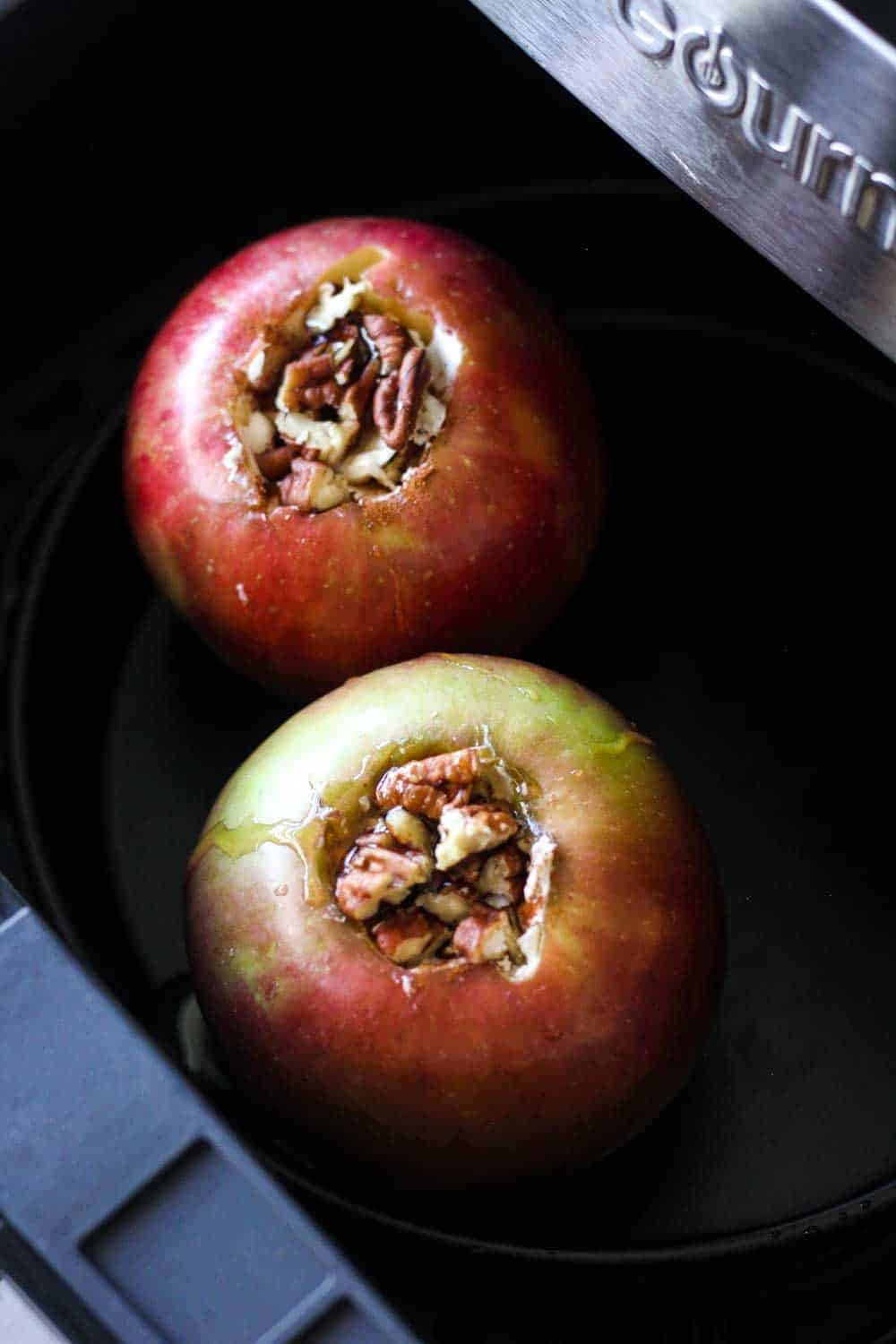 How to store baked apples
Store them in a air tight container for up to 5 days. Reheating instructions: Since this apples are best when warm, just put them into your air fryer for 1 minute at 360 degrees and they will be warm and nice to eat.
If you re into making more desserts in your air fryer, try my Fried Oreos, they are totally a crowd pleaser and my husbands favorite. Dont eat more then one or two though because they are are very high in calories.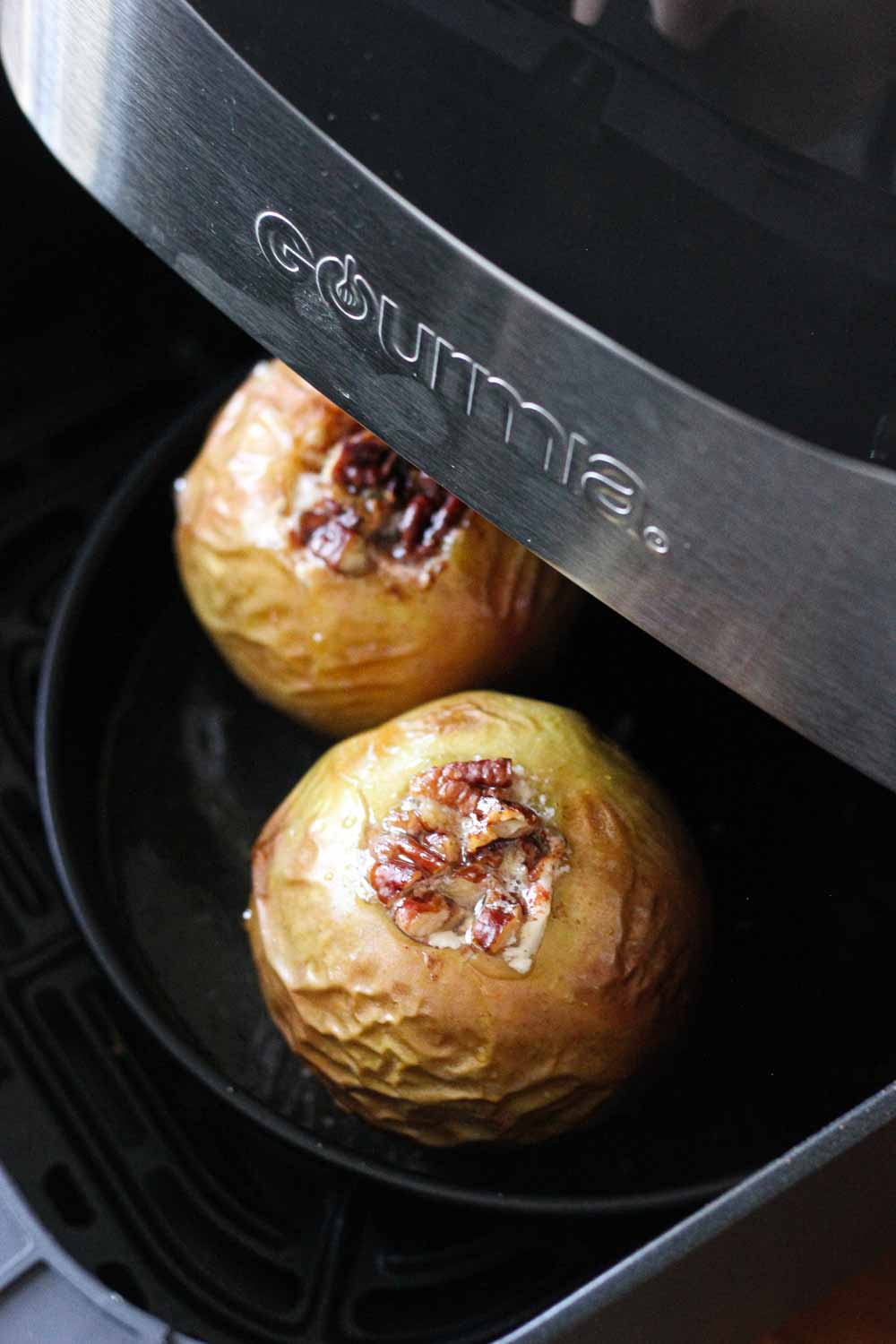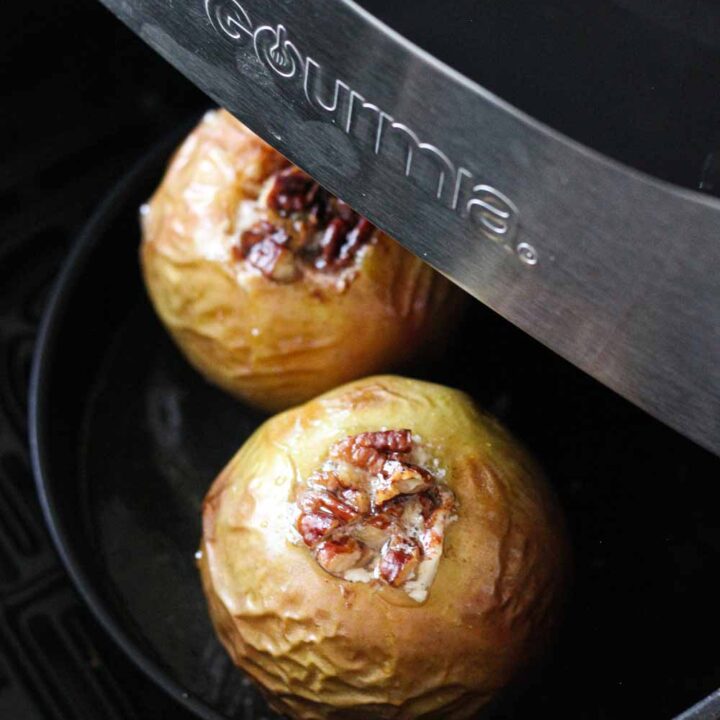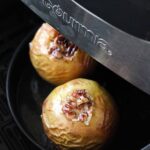 Print Recipe
Air fryer cinnamon baked apples
Ingredients
2

apples

2

tablespoon

cream cheese

1

tablespoon

maple syrup

3

tablespoon

pecan nuts

1/2

teaspoon

ground cinnamon
Instructions
Preheat air fryer to 340 degrees.

Wash apples. Using a small sharp knife remove cores from apples. Dont remove all the way though, leave some on the bottom to hold the filling.

Fill apples with creamed cheese. Top with chopped pecans and cinnamon. Place apples on a air fryer safe cake pan. Drizzle them with maple syrup. cook for about 20 minutes until soft.