This post may contain affiliate links.
Try this amazingly easy recipe for air fryer chicken rotisserie style in the comfort of your own kitchen. Superb quality juicy meat and extra crispy skin, its what i call a perfect dinner!
MyWW green plan, blue plan and purple plans points are listed in the notes of the recipe card, specified by the part of the chicken ( all calculations are done by adding ingredients to Weight watchers app calculator). Points are per serving.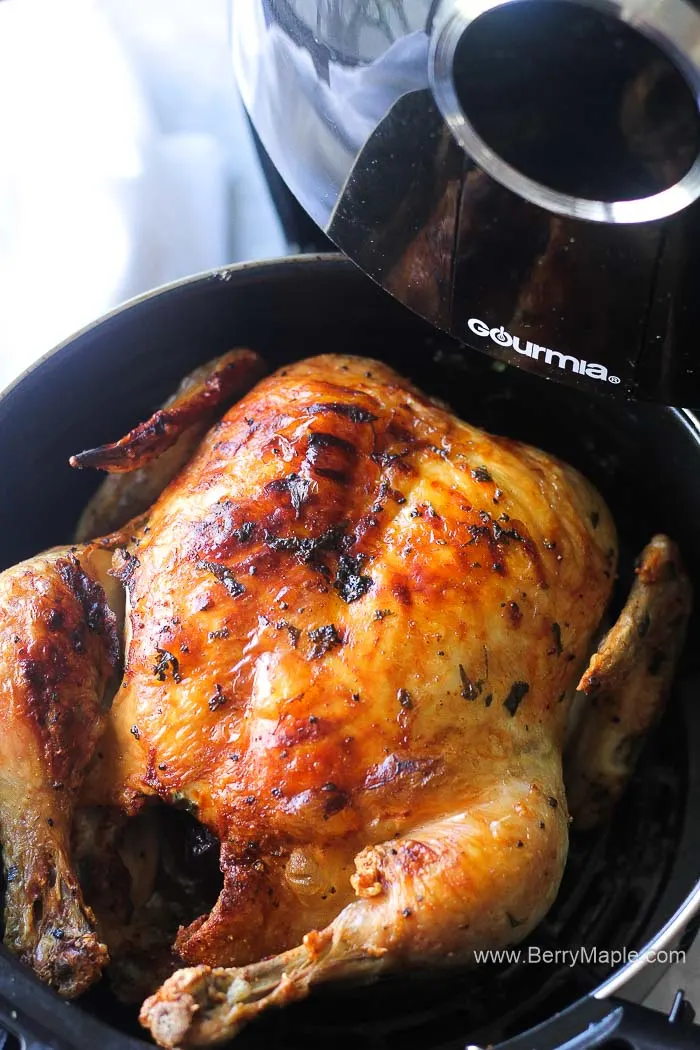 Before scrolling take a look at all the tips and tricks i explained in the post, they will help you avoid any cooking mistakes.

How to fit the whole chicken in the air fryer
For this recipe i used a 5 pound bird. Place chicken in the air fryer basket breast side down. If you feel that it will not fit, you can tie the legs and push them down a bit, this should help.
Or poke a skin in the lower side of the one chicken leg and squeeze another leg into that hole. That helps if you don't have special butcher twine. It usually sold in the kitchen tool section in stores or online.
Before making chicken i tried to cook cornish hen and it turned out perfect! That encouraged me to try a bigger bird. This recipe is paleo, keto and whole30. Great beginner recipe, easy and fast.
How do you clean the bird?
Once you purchase a whole chicken and bring it home, make sure to remove all the giblets and packaging from the inside. I usually do it in the sink under the running water. Once the chicken is clean from all the extras, wash is from both sides and pat dry.
From what i know a lot of people prefer not to clean their chicken due to illness cautiousness , but as long as you simply clean the sink after you will be fine. I can't imagine not cleaning any meat, i was raised in Russia and you will not find a single person who doesn't wash meat or chicken.
Cleaning after the meal is done is also an important part of cooking routine. Washing dishes might be annoying when roasting the whole chicken in the oven. With the help of an air fryer, all you will need to do is to put the air fryer basket in to the dishwasher and voila! All the work is done.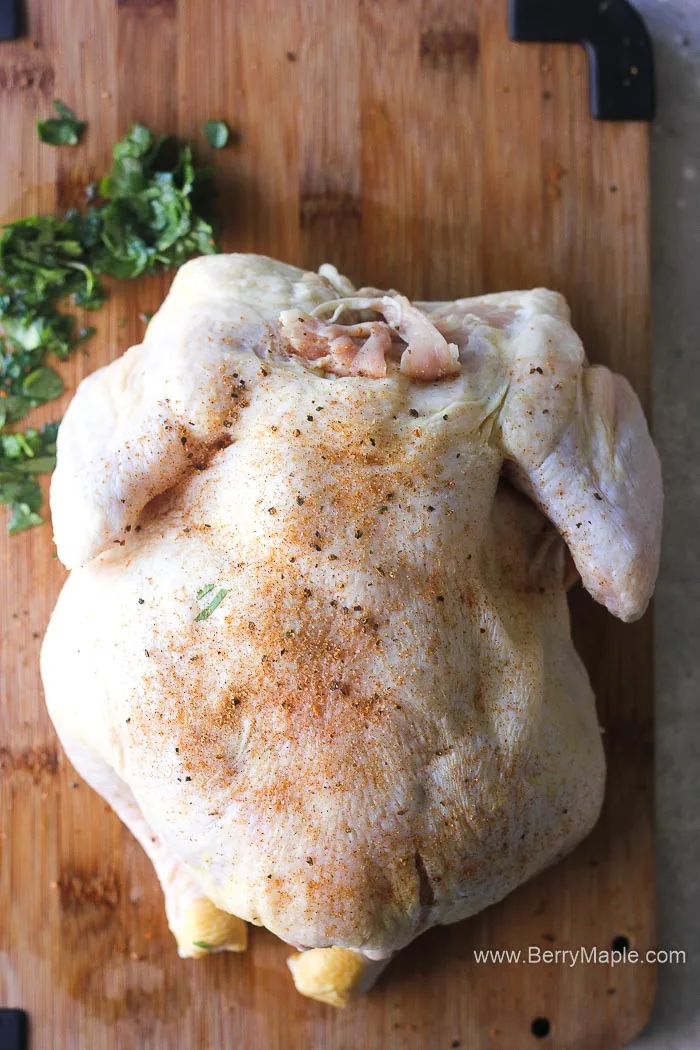 Cooking instructions
This recipe is very flexible, you can use your favorite blend of spices and pretty much any amount. Make this air fryer whole chicken in Nuwave air fryer, Philips air fryer, or like me, in my Gourmia 4.5 qt air fryer.
Here is a list of spices i used in this recipe. Use about a teaspoon of each. Make sure to rub some under the skin as well. Or make the air fryer roast chicken seasoning all by yourself.
salt
dried oregano
dried basil
onion powder
black pepper
cilantro
Feel free to use your own measurements or even make it spicy. I planned to feed kids this chicken for lunch so i didn't make it spicy at all. It doesn't mean i don't like it though!
I also chopped some fresh cilantro and rubbed chicken with it- for extra color and flavor. Use fresh parsley, fresh rosemary or fresh thyme, the smell will be amazing.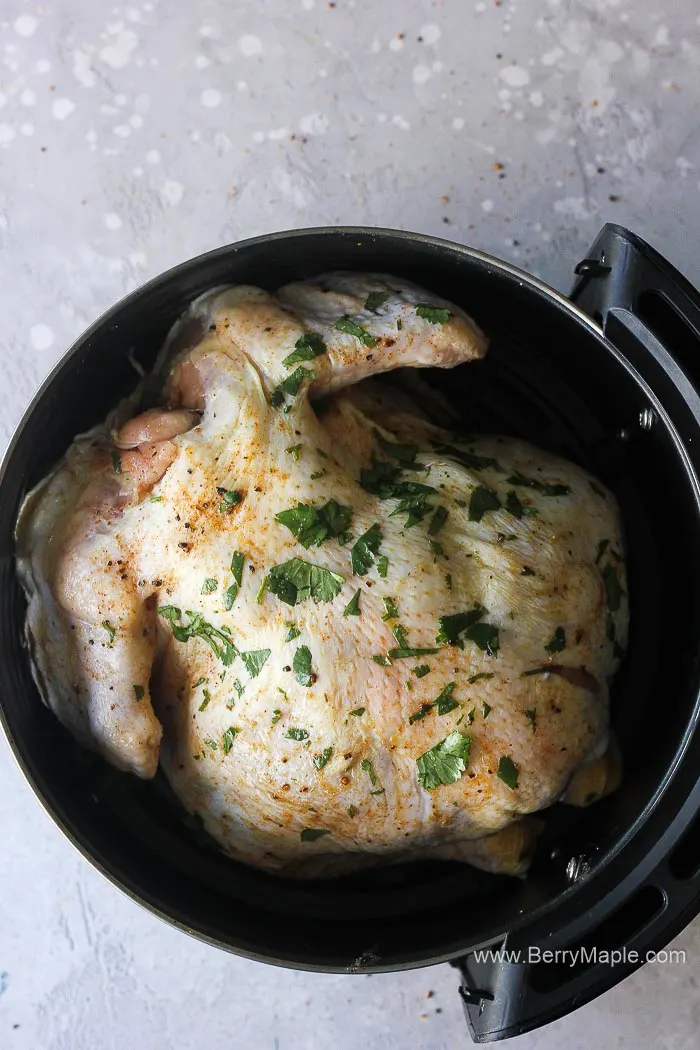 Step 1. Preheat the air fryer to 360 degrees. Place clean rubbed with spices chicken in to your air fryer basket. Set cooking time to 60 minutes (1 hour).
Step 2. 30 minutes later, flip your roasting chicken upside down. Be careful doing that, use thongs and a fork at the same time, plus its very hot. This is how the chicken looked half way roasted.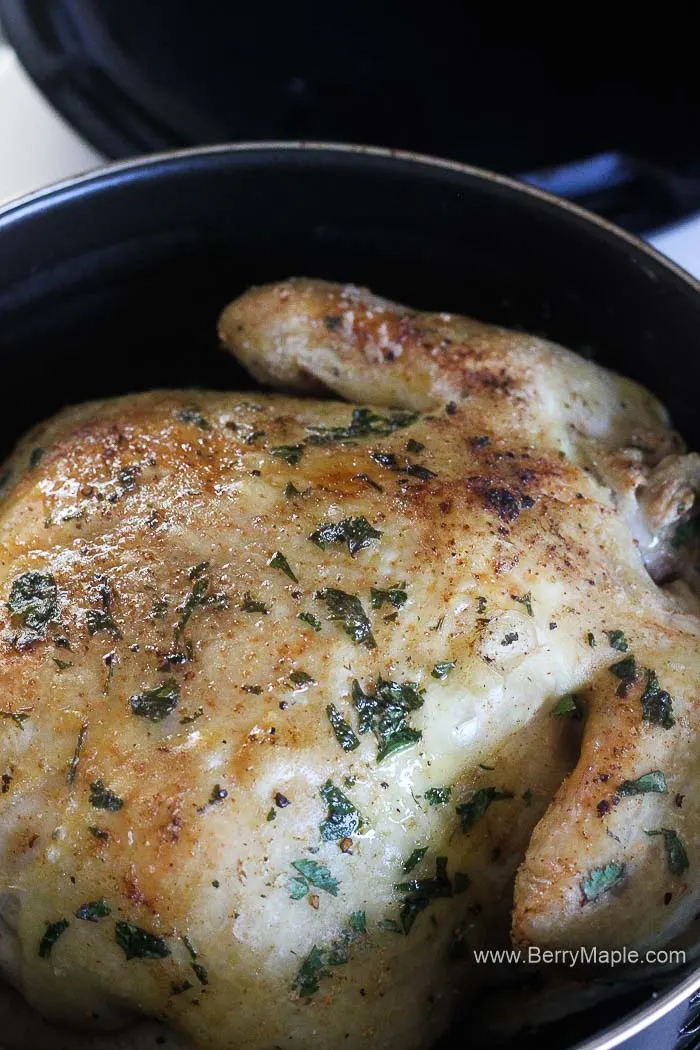 Step 3. After another 30 minutes enjoy your fully cooked delicious whole roasted rotisserie chicken.
Is it healthy?
I would say that's the chicken cooked in the air fryer is absolutely healthier then an oven roasted bird, simply because you are not going to use any oil in your cooking. Air fryer cooking method let you make much healthier and more nutritional meal in less time too.
What size of air fryer do you need to cook whole chicken?
The chicken cooking time varies on the weight of the bird and the size of your air fryer basket. I had a 4,5lb air fryer and was able to fit a 5 lb bird in it. Cooking time was exactly one hour.

Cooking temperature

It doesn't matter what method of cooking you prefer, always make sure that the internal temperature reached 165 degrees. You can do this by sticking an instant thermometer into the thickest part of the chicken, away from the bone. More information about it you can find in this article.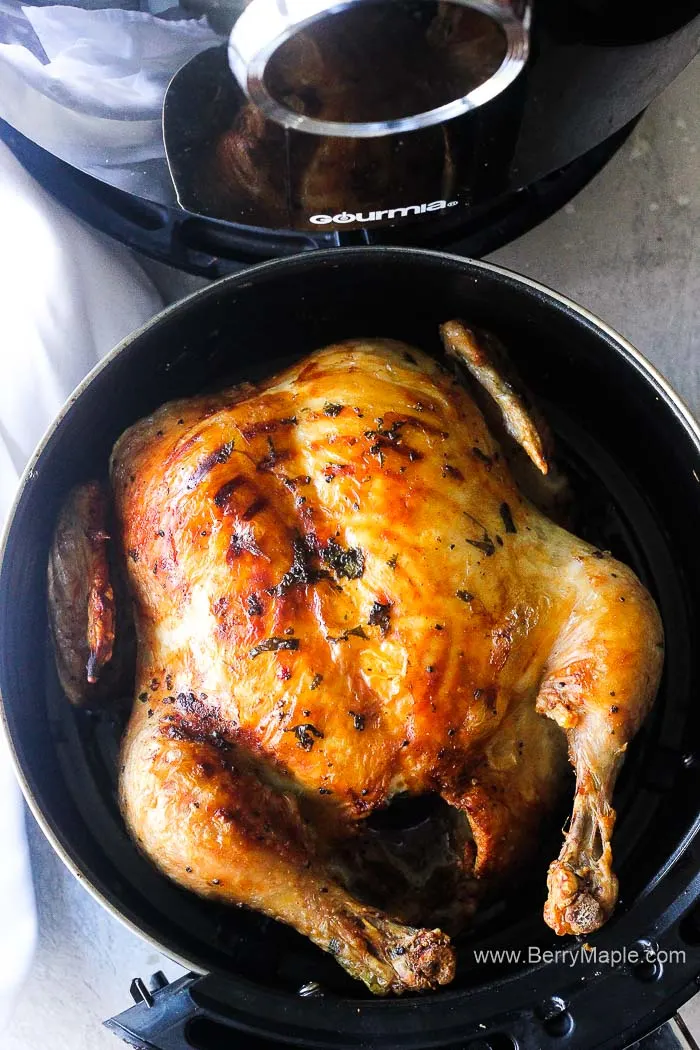 Can you reheat a rotisserie chicken?
Absolutely! I love to do it each time we purchase a rotisserie chicken in costco (they have the best deal!). We usually eat legs first and i reheat the rest in air fryer next day. The recommended temperature will be 375 degrees for 2 minutes. Reheating in air fryer will push chicken skin to get extra crispy again!
More air fryer recipes readers love!
More chicken recipes to try: Air fryer chicken drumsticks , Air fryer chicken wings , Easy smoked chicken , Air fryer quesadilla (also with chicken!)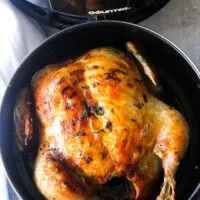 Print Recipe
Air fryer whole chicken
Healthy air fryer best whole chicken recipe rotisserie style! Crispy skin and juicy meat, this recipe is paleo, keto and whole30.Great beginner recipe, easy and fast.
Ingredients
Instructions
Preheat air fryer to 360F. Wash the chicken and remove giblets.

Rub with the blend of spices (and cilantro) and place in to the air fryer basket breast side down.


Cook for 30 minutes and them carefully flip and cook for another 30 minutes.

Notes
Weight Watchers points ( all calculations are done by adding ingredients to Weight watchers app calculator). Points are per serving:
Chicken breast (skinless):
MyWW green plan 4 points, blue plan 1 points, purple 1 points
Chicken thigh (skinless):
MyWW green plan 3 points, blue plan 3 points, purple 3 points
Chicken wing:
MyWW green plan 2 points, blue plan 2 points, purple 2 points
Chicken drumstick (skinless):
MyWW green plan 2 points, blue plan 2 points, purple 2 points
Tools used in this recipe
Nutrition
Calories:
391
kcal
|
Carbohydrates:
1
g
|
Protein:
34
g
|
Fat:
27
g
|
Saturated Fat:
8
g
|
Cholesterol:
136
mg
|
Sodium:
224
mg
|
Potassium:
343
mg
|
Fiber:
1
g
|
Sugar:
1
g
|
Vitamin A:
336
IU
|
Vitamin C:
3
mg
|
Calcium:
24
mg
|
Iron:
2
mg
Nutrition information is provided as a courtesy and is an estimate only. This information comes from online calculators.