This post may contain affiliate links.
Homemade cinnamon unsweetened applesauce recipe that is refined sugar free and absolutely delicious. Easy healthy treat, that can be cooked on stovetop, crockpot or instant pot!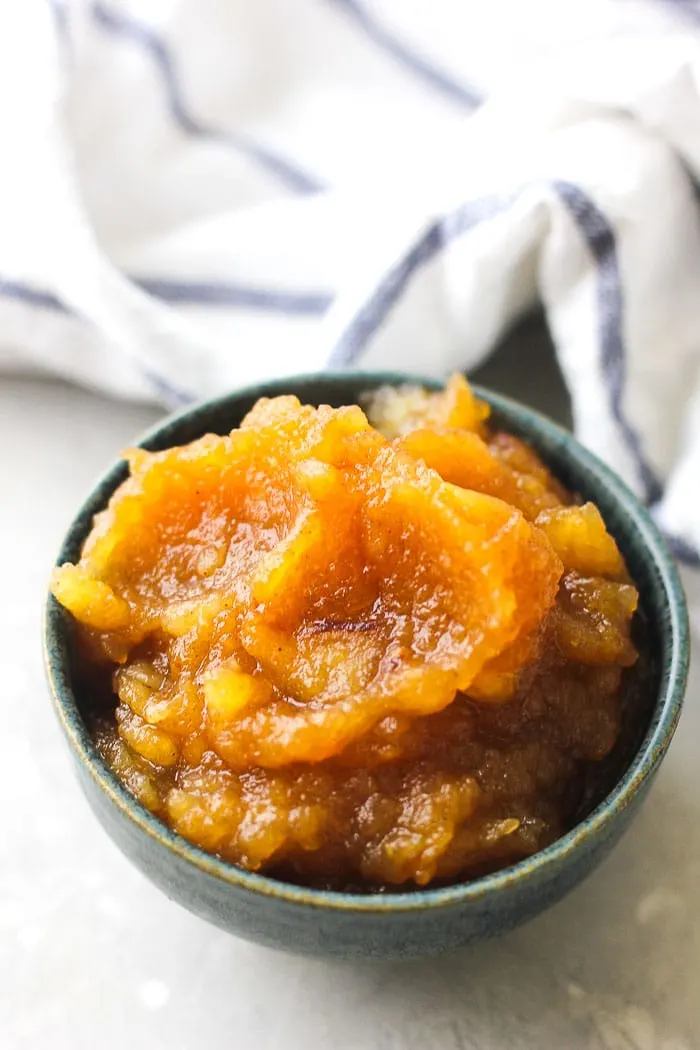 Making applesauce is a pretty simple process that doesn't require much work. Best time to make is probably fall when apples are in season, but any time of the year will work too, as long as there are apples in the store. There is two kinds of apple sauce that i want to cover in this post: sweetened applesauce and unsweetened applesauce. The only difference between those two is the kind of apples you will use and the amount of sugar you will add.
Best apples for unsweetened applesauce.
All apples will work for an applesauce. They only varies in tartness and sweetness. Most popular apples for unsweetened applesauce traditionally are Gala, Fuji, Golden Delicious and Cortland. McIntosh, Pink lady and Honeycrisp are excellent choices as well. You will not need to add any sugar with those varieties. The question that you probably is about to ask, is applesauce good for you? Absolutely! Especially if it is an unsweetened applesauce. Lets look at the applesauce nutrition more closely.
The picture below shows white sugar. It was my first batch , where i used sugar but then i decided that it made the sauce too sweet.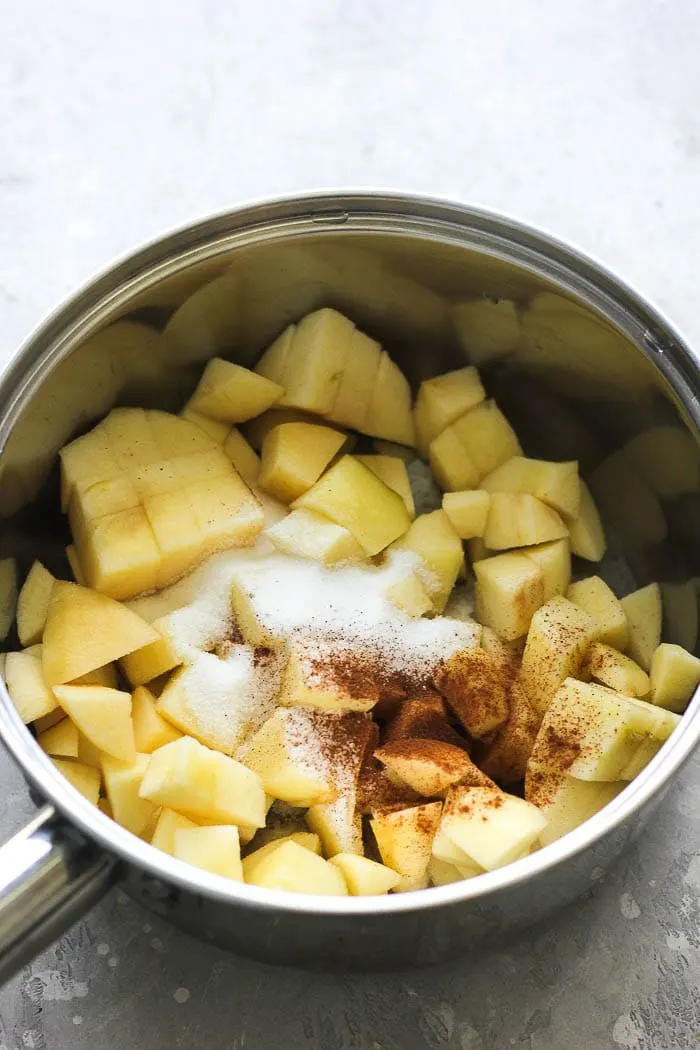 Applesauce nutrition
Calories in apple sauce. Unsweetened applesauce would have about 100 calories per cup while the sugar added sauce will get over 150 kkal. This amount depends on the sweetness of your apples.
Carbs in apple sauce. The amount of carbs doubles in sweetened applesauce, compare to carbs in unsweetened applesauce. 27 to 43 carbs per serving (1 cup). Also, apples are a natural source of Vitamin C and fiber called pectin. It digest slower so it keeps you fuller longer.
How to make homemade unsweetened applesauce
Stovetop applesauce. This is the fastest method of cooking applesauce. Core and peel apples, chop them and move to the medium size sauce pan (or a big pot if using a large batch). Add some water and fall spices and cook on medium for 20 minutes. Cool apples and mash them. If you will leave some apples out, you will get a chunky applesauce, very delicious too.
Instant pot applesauce. Using the same instruction for apples preparation, just add them with half cup of water in to your pressure cooker. Cook on manual for 8 minutes and quick release. Let cool and mash
Crock pot applesauce. When you are cooking applesauce in slowcooker, make sure you got some time. Using the same preparation directions cook apples with water and spices for 4 hours on high. Then mash and enjoy!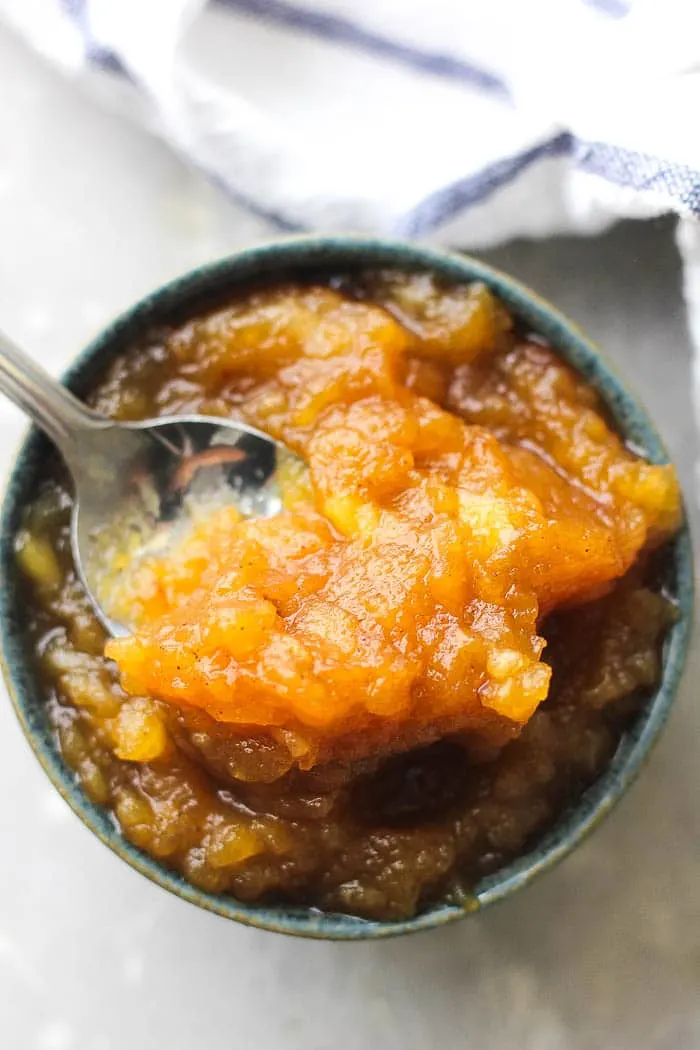 What to do with applesauce
Applesauce can be used in a large variety of recipes, especially in baking. Applesauce cake, applesauce muffins, applesauce bread, applesauce cookies,, applesauce pancakes, a yummy snack- cottage cheese and applesauce.
What does applesauce replace in baking. You can substitute applesauce for oil in baking, with the 1:1 ratio. I tried this method with pancakes and muffins and it worked great! Wonder how much applesauce for one egg? I have experience successfully replacing egg with applesauce using 1/4 cup for 1 egg.

How to make apple butter from applesauce. I have a great recipe for delicious Crock pot apple butter. But basically you just need to cook your apples in the slow cooker for the whole day on low, about 8-10 hours. Then apple butter can be used as a spread on your toast!
How long does applesauce last. Freshly made applesauce will be good for another 10 day if stored correctly in the fridge. If you would like to freeze applesauce, make sure to use an airtight container and leave about half inch of space on top, because it will expand.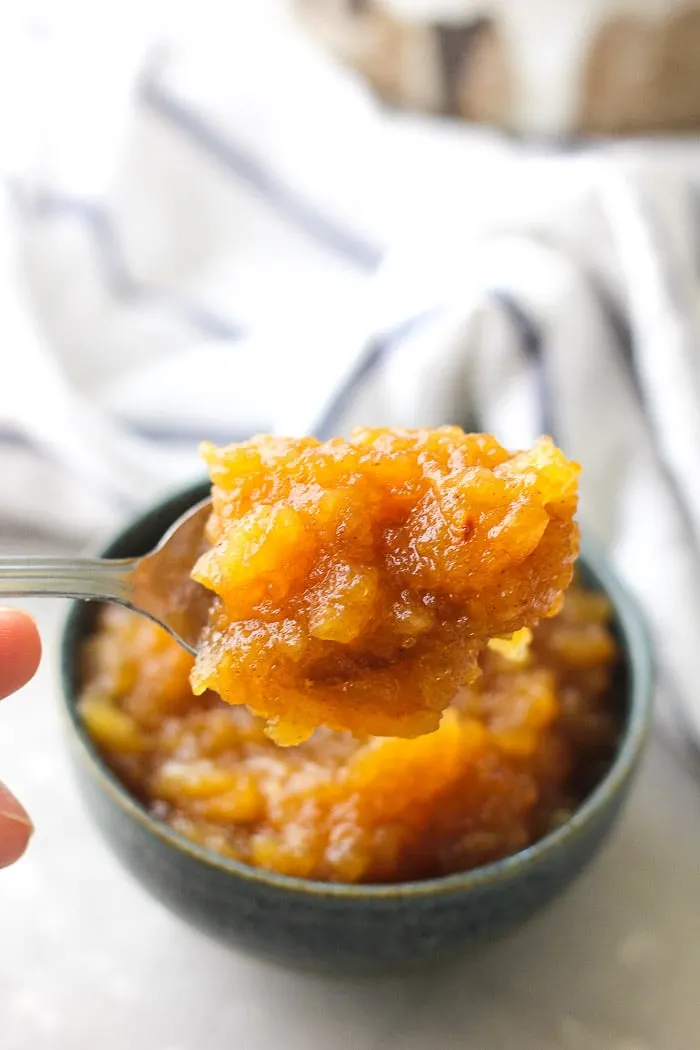 If you ask me what store bought applesauce is my favorite, i would say Mott's applesauce is pretty good. Here is the link to learn more about how are they making their sauce.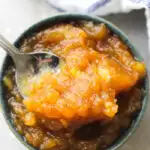 Print Recipe
Unsweetened cinnamon applesauce
Homemade cinnamon applesauce recipe that is sugar free and absolutely delicious. Easy healthy treat, that can be cooked on stovetop, crockpot or instant pot!
Ingredients
4

apples

i used fuji

3/4

cup

water

1/2

teaspoon

ground cinnamon
Instructions
Peel, core and chop apples. Place them in the medium pot and add water. Add cinnamon and cook over medium heat for 20 minutes.

Let cool. Mash with the masher or whisk and store in the fridge.
Nutrition
Calories:
191
kcal
|
Carbohydrates:
51
g
|
Protein:
1
g
|
Fat:
1
g
|
Saturated Fat:
1
g
|
Sodium:
8
mg
|
Potassium:
389
mg
|
Fiber:
9
g
|
Sugar:
38
g
|
Vitamin A:
197
IU
|
Vitamin C:
17
mg
|
Calcium:
22
mg
|
Iron:
1
mg
Nutrition information is provided as a courtesy and is an estimate only. This information comes from online calculators.