This post may contain affiliate links.
Green Tea with Ginger and lemon benefits.

Have you ever tried green tea with ginger? It's amazing what you can experience for benefits drinking this flavorful drink.
Green tea alone is a beneficial part of a daily diet that offers you a wide range of health benefits, adding ginger to your green tea makes this a delicious home healthcare remedy to heal ailments and prevent some health issues.
Related: Broccoli smoothie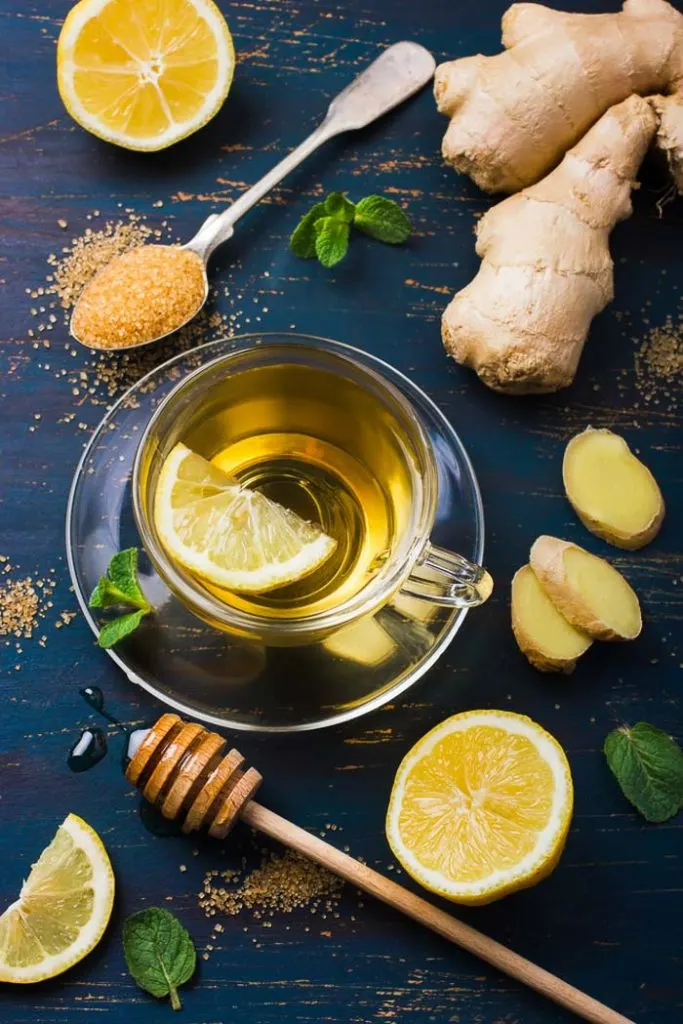 You can purchase green tea with ginger at many natural food stores to enjoy the benefits of this healthy drink. The flavor is quite complex with a sweet but spicy taste when combined together.
The flavor is something unforgettable and when you read the benefits of green tea with ginger, you'll surely be ready to go purchase your own green tea with ginger soon.
Benefits of Green Tea with Ginger
Prevents Nausea
If you're about to travel drinking a cup of green tea with ginger will help prevent nausea. In addition to helping prevent nausea, you can drink green tea with ginger at the first sign of motion sickness to help avoid throwing up and nausea associated with motion sickness.
Reduces Inflammation
Drinking green tea with ginger helps ensure the anti-inflammatory properties of ginger work to alleviate muscle and joint pain due to inflammation. You will reap the benefits of green tea with ginger to reduce inflammation shortly after consuming this delicious beverage.
Better Blood Circulation
Another benefit of green tea with ginger is the ability for the vitamins, minerals and amino acids in this tea to help with better blood circulation. When you have better blood circulation you're better able to ward off cardiovascular issues.
Excite Hair Growth
Drinking green tea with ginger provides you with Vitamins A and C that actually work to excite hair growth. This is a great way to alleviate itchy scalp and help assist your scalp in producing more hair so that you can have healthier looking hair.
Destress Your Mind
Green tea with ginger helps alleviate stress from a long day. Enjoying a warm cup of green tea with ginger will provide you with the calming ingredients to destress your mind and body. This is the perfect drink to enjoy after a long day of work and daily life.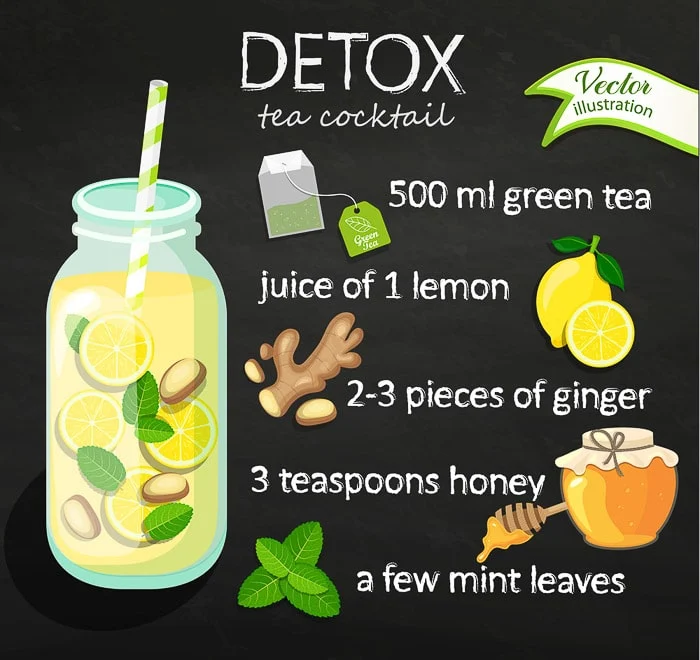 Using Green Tea with Ginger as a Detox
In addition to the health benefits of drinking green tea with ginger, you can use this concoction as a means to detox.
Green tea alone has many properties that help keep your body and mind healthy, but adding ginger to it provides your body with some amazing fat-fighting properties.
Green tea with ginger is a wonderful detox blend as it provides your body with a boost to your metabolism with the spicy side of ginger and health components of green tea.
Drinking four glasses of green tea with ginger per day will help aid in detoxing your body by alleviating constipation and helping your digestive tract work properly.
Using green tea with ginger to detox essentially helps by increasing the pH of your stomach and digestive enzymes which in turn helps boost your metabolism and in turn lose weight.
In addition to boosting your metabolism green tea with ginger helps detox your body due to the high fiber content found in ginger.
Overall using green tea with ginger your life on a daily basis will help you achieve and maintain proper health as well as work to aide your metabolism to work a bit faster. Green tea with ginger is a wonderful natural way to help keep your body on track to ward off diseases and unhealthy habits.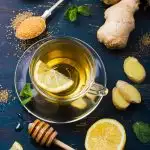 Print Recipe
Green tea with ginger and lemon for weight loss
Detox green tea with lemon and ginger recipe, add some honey to sweeten it up!

Ingredients
2

cups

water

1

green tea packet

1

inch

fresh grated ginger

3

tspn

honey

a few mint leaves

1/2

lemon

juiced
Instructions
Bring your water to simmer. Add a green tea bag and steep for 5-10 minutes


Add minced ginger and lemon juice.


Remove tea bag. Add honey when the tea is not that hot to same all the nutrients. Enjoy!

Nutrition
Calories:
10
kcal
|
Carbohydrates:
3
g
|
Sodium:
13
mg
|
Potassium:
37
mg
|
Sugar:
1
g
|
Vitamin C:
14.3
mg
|
Calcium:
14
mg
|
Iron:
0.2
mg
Nutrition information is provided as a courtesy and is an estimate only. This information comes from online calculators.