Today i am opening a new category on my food blog- non vegetarian main course! I am so excited and already have a few recipes to share with you. We will start with this delicious glazed meatloaf with sweet potatoes and green beans recipe.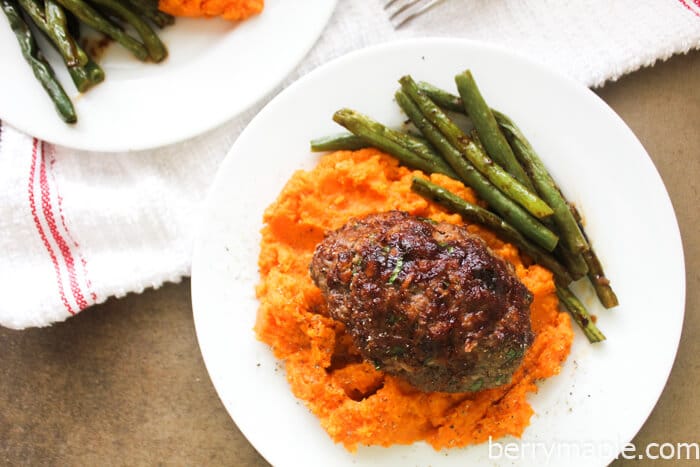 For me, pretty much any meatloaf recipe reminds of a traditional Russian meatball, we call it "kotleta". The only difference is that we sear kotleta on a pan with oil,  but meatloaf it baked in the oven. Just that one little difference puts meatloaf in to a healthy category.
Its also very important what you garnish your meatloaf with. Ideal will be fresh vegetable salad with just an olive oil dressing and a pinch of salt.  But if you prefer your garnish to be a cooked meal- mashed sweet potatoes and green beans is definitely a great choice! Try this delicious combination and let me know what you think in the comments!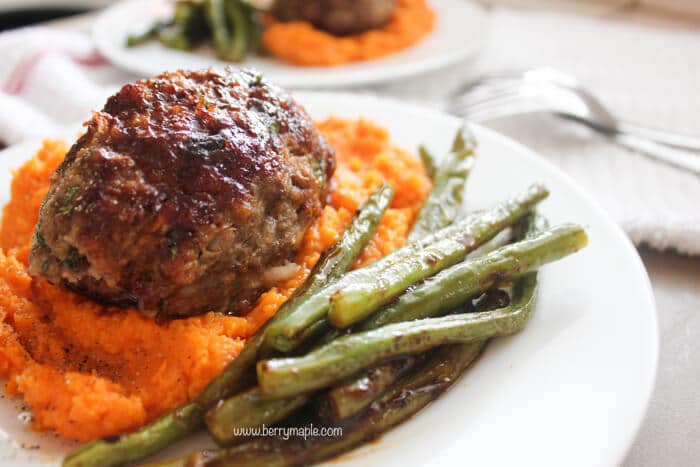 Glazed meatloaf with sweet potatoes and green beans
Ingredients
12

oz

ground beef

grassfed if possible

2

sweet potatoes

8

oz

green beans

2

cloves

garlic

a little bit

of fresh parsley

1

onion

1/3

cup

panko breadcrumbs

1

tbsp

balsamic vinegar

2

tbsp

ketchup
Instructions
Preheat the oven to 450 degrees

grate garlic and onions,chop parsley and mix it all with panko and ground meat in a large bowl. add 1tspn of salt. Form 2 meatloafs and place them on a prepared oiled sheet.


Make the glaze- mix ketchup and vinegar and brush it on your meatloafs.

Place the sheet in to the oven for about 30 min


Peel and chop sweet potatoes , put them in a boiling water and cook for about 10 min until tender. Drain and mash them right in the pot. Add 1 tbsp ob butter


After meatloafs baked for about 15 min, in to the same sheet add trimmed green beans, mixed with olive oil and a pinch of salt and pepper. bake for additional 15 minutes


Serve meatloafs on a bed of mashed sweet potatoes and green beans on the side

You will also like this delicious recipes: